Moyers Bible

The Holy Bible Containing the Old and New Testaments,
Stereotyped by J. Howe, Philadelphia, Philadelphia,
Published by Joseph McDowell No. 25, Market St. and
Kimber and Sharpless, No. 8 South 4th Street. Not dated,
and I cannot find a reference to this edition anywhere. I
think that it predates any of the Kimber and Sharpless
quarto Bibles and is early 1820s, but that is just a guess.
Perhaps the addresses above can provide the answer to
someone with the right resources.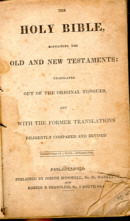 This Bible is in fair shape. The pages are all present with
minor foxing and minor damage. The boards and spine
are present and the spine has some loss at the top. The
back board is attached but split; the front board is attached
by a VERY rustic sewing job with five stitches.
There is assorted interesting ephemera in this Bible. A four
leafed clover, a poem titled "woman", a delicate drawing of
a plant, several fabric scraps, a piece from a school book,
a page from a book (chapter titled "The Judgment"), a piece
of a bag (?) with some genealogy info on it and a reward of merit
presented to Thomas Moyers. Altogether a charming 19th century Bible.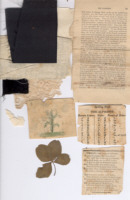 Transcribed by and in possession of Tracy St. Claire,
tracy@stclaire.org. Bible was returned to descendant
Jim Smith of Kinross Michigan.
SURNAMES:
MOYERS
WARD
THOMAS
MARTIN
---------------START TRANSCRIPT-------------------------
[Page One -- Old Bag Scrap]

Josha died April 16 1863 age 20 y 1 mon & 6 day
William Ward died March 21 1852 age 71 9 month
26 day
[bottom of bag]
Smith Jabes 23 dec5
West Cairo Ohio
[Page Two -- Malachi]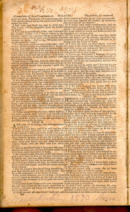 Joshua May
Isac Martin 1830 born
[Page Three -- Last Page of Old Testament]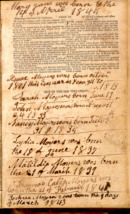 Mary Jane was born to the 14 of April 1845
Isaac Moyers was born October 1801 this is as nar is I can git to
Sarah Moyers born June 19 1813
John Moyers was born August 24 1833
Nancy Moyers was born July 30 31 1835
Lydia Moyers was born the 18 of June 1837
Matildia Moyers was born the 21 of March 1839
Thomas Caliph Moyers was born the 21 of Febuary 1841
Joshua Moyers was born the 9 day of March 1843
[Page Four -- New Testament Title Page]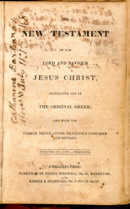 Catharine Barbara Moyers July 11 1848
1863
1848
------
15
[Page Five -- Reverse of New Testament Title Page]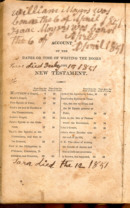 William Moyers was born the 6 of April 1851
Isaac Moyers was born the 6 of April 1851
Isaac died July 15 1851
Sara died the 12 1851
[Page Six -- Back Flyleaf]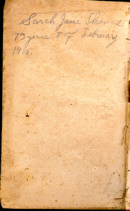 Sarah Jane Thomas 79 [or 73] years 8 of February 1913.
[Page Seven -- Inside Back Cover]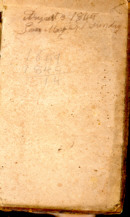 August 3 1845
Isaac Moyers Sunday
1859
1845
------
14
[Page Eight -- Reward of Merit]

Presented to Thomas Moyers
By Mary Elsworth

------------END TRANSCRIPT-------------------------------