Mumma Bible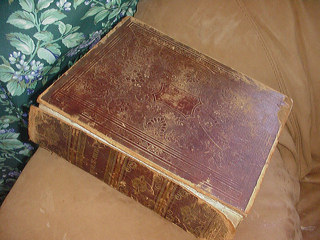 The Holy Bible Containing the Old and New
Testaments Together with the Apocrypha.
Hartford: Sumner and Goodman, 1845. This
Bible is in pretty good shape, but the binding needs
repair. Included with the bible was an obituary,
a hymn, and two sets of hair locks.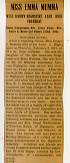 This bible is currently in the possession of Tracy St. Claire

tracy@stclaire.org
This Bible was returned to descendant family of Kim Mumma, from whom it had been stolen.
More information on this family can be found at:

SURNAMES:
MUMMA
NISSLEY
HUMMEL
SHOPE
MOUNTZ
WICKENSHAM
JENNINGS
HOFFER


TRANSCRIPT BEGINS HERE____________________

[Page One -- Inside Front Cover]



This is the property of Isaac and Mary Mumma

[Page Two -- Flyleaf Opposite Front Cover]



Isaac Mumma was born the May the Second A Son
of Christian & Elizabeth Mumma in the Year of our
lord one thousand eight hundred twenty four and my
wife Mary Nifsley was born on the thirtieth of December
A daughter of Christian and Nancy Nifsley in the year
of our lord one thousand eight hundred an twenty eight

[Page Three -- Marriages]



Isaac Mumma A Son of Christian and Elizabeth Mumma
was Married to Mary Nifsley A daughter of Christian
& Nancy Nifsley married on the eleventh day of
January in the year of our lord one thousand eight
hundred an forty eight 1848

Uncle John Nissley died Nov 21 1915

December 11 1877 Mary F. got married to Edger
Hummel in the evening at 7 O Clock

C. Nissley Mumma was Married to Aggie Shope
February 22nd 1882 at 8 O Clock in the evening

Ralph Isaac Mumma was married to Anna Mountz
June 25th 1900 at 8 Oclock

Helen Opal Mumma was Married to Oscar Wickensham
October 15th 1902 at 8 Oclock

Mary Wickensham was married Oct 1 1932 at her
home to Alfred Jennings

[Page Four -- Births]



Emma Jain Mumma was born on the twenty
ninth of March A daughter of Isaac and Mary Mumma
in the year of our lord one thousand eight hundred and
forty nine

Anna Elizabeth Mumma was born on the twentieth
May A daughter of Isaac and Mary Mumma in the
year of our lord one thousand eight hundred and
fifty two

Mary Francis Mumma was born the eleventh of
December in the year of our lord one thousand eight
hundred and fifty four a daughter of Isaac and Mary
Mumma

Christian Nifsley Mumma was born the fifth day of
July in the year of our lord one thousand eight hundred
and fifty seven A son of Isaac and Mary Mumma
First Son

[Page Five -- Births]


Alice Edith Mumma was born the twelvth day of
June one thousand eight hundred fifty nine A daughter
of Isaac & Mary Mumma

Blanche Beartha Mumma was born the twenty fifth
day of March 1866 A daughter of Isaac and Mary
Mumma

Ralph Issac Mumma December 30 1868 A Son of Isaac
and Mary Mumma

Helen Opal Mumma was born the 1st of June 1875
daughter of Isaac and Mary Mumma

[Page Six -- Deaths]


My mother died March the 6th 1843 Aget 49 years
4 months an 17 days

My brother John died July the 10 1843 aget 32 years
4 month an 9 days

My brother Solomon died on the twenty fourth of
Noveber A.D. 1849 and brought his age to 22 years
1 month an 10 days

My sister Amanda died Dec the 17th 1850 aget
5 years 5 month an 1 day

My brother Martin died October the 10 the A. D.
1851 Aget 26 years an 15 [illegible] days

My Step mother Mary died December the 26 A. D.
1851 aget 47 years an 2 month a 27 days

My Father died May the 30 A. D. 1855 aget 71
years 9 month & 18 days

My Father in law Christian Nisley Died July 8 1847
aget 40 years 10 months & 23 days

My Step sister Polly Hoffer Died Jany 4 1871 age
57 years 3m 4 day

My Step sister Betsey Hummel Died August 2
1874 age 59 years 7 mo & 12 days

May wifes mother Nancy Nifsley Died April 2 1878
aget 66 years 3 months & seventeen days

Our father Isaac Mumma Died March th 4 1887 Aged
62 years 10 months & 2 days

[Page Seven -- Page Opposite Family Records]



Rev. Bartholomew's Sermon for Grandmother Nissley.
Text Numbers 23ch & Part of 10 verse

Rev. Bartholomew's Text for Cousin Grase Nissley
Isiah 40th & part of 7 verse

Rev's Meidler & Swartz text for Isaac Mumma Numbers
23ch part of tenth verse

Mary Hummel's text was Thessaloniaus 4 chapter and 13
verse. Preached by Rev. Kanes. She died Friday Jan, 1,
1897 at 9:10 P.M. and was buried Tuesday Jan 5 at
2 PM

Emma J. Mumma died Feb 2nd 1911. at 10.10 and was
buried Feb 6th at 2 P.M. Text was Revalation 14th
chapter part of the 13th verse by the Rev Sharp. Rev
Diffendaffer [??] text 34th Psalm 19th verse age 61 years
8 mo 8 day

Our Mother died July 30. 1912 at 10.20 P.M. age 82
Anna E. Mumma died March 24 at 6.10.P.M. was
buried March 27 = 1913 age 61

Nissley Mumma died May 12 1920 in the [illegible]
Church Steelton an praying meeting buried May 15
age 62 years 8 mo 7 days Rev Bauman preaches

Blanche B. Mumma died June 26 1921 buried June 29 1921
age 55 yr 3 mo Rev Fridgmiger [??] preached

Brother Ralph died Sept. 27 at 10.20 am. and was buried
Sept 29 1934 age 65 yr


-----------END TRANSCRIPT------------------