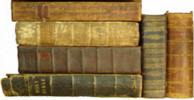 Family Bible News
As you might imagine, news and articles about family Bibles and Bible records are pretty sparse. I intend to solicit articles from organizations, reuniters, academics and others. If you have an article or idea with an appropriate topic, please e-mail me.
April, 2005 -- Breckenridge Bible Update --
The family Bible containing the most genealogy information has been returned to its descendants this month by Nick Nejadeh. The Breckenridge Bible, containing 37 pages packed full of genealogy information on many different descendant lines was finally returned to its family this month. The Breckenridge family of South Dakota was having its genealogy researched by genealogist Steve Baggs, who discovered the Bible during his research. The family got a little more than it bargained for from Steve's research.
"I had Mr. & Mrs. Breckenridge stop by later this afternoon and, as I anticipated, he was speechless. I'm not sure, but I think I detected a small lump in his throat and watery eyes. Anyway, he was flabbergasted that family heirlooms such as those could be found via cyberspace and suddenly turn up."
Good job, Nick!
June, 2004 -- Family Tree Magazine Award
For the second year in a row, Bible Records Online has been chosen as a "Top 101 Best Web Site" in its annual issue. We should all be proud of this recognition of our hard work, effort and money from last year. Let's keep it up!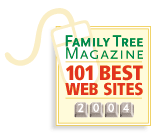 ---------------------------------------------------------------------------
April 16, 2003 -- NGS Quarterly -- Special Issue Dedicated to Bible Records!
The National Genealogical Society Quarterly has dedicated an entire issue to the study, location and preservation of family Bibles (Volume 90, No. 4, December 2002). There are about twelve family records (transcripts) themselves, a short history of family Bibles, online sources for records (including a plug for us -- we now have 75 Bible records!) and a kick-off announcement for NGS Digital Bible Archives Project, and Orphaned Bible and Family Record Rescue Project.
If you missed the issue, you can still purchase a copy at the National Genealogical Society. For members, the price is $10, for non-members, the price is $12, + $3.85 for shipping.
----------------------------------------------------------------------
September 29, 2002 -- Reprinted with the permission of NEHGS from the Summer 2002 edition of New England Ancestors magazine
BIBLE RECORDS RECRUITMENT CAMPAIGN: YOUR HELP IS NEEDED!
NEHGS has begun a new initiative that will promote the preservation and dissemination of genealogical records, particularly Bible records. NEHGS is seeking donations of Bibles and other family records - either the original record itself or copies of the genealogically relevant material.
Since 1845 the New England Historic Genealogical Society has been caring for artifacts - and we have the facilities, equipment, and personnel to preserve family heirlooms far into the future. But the scope of this project extends beyond mere preservation -making the information accessible to other genealogists is essential. Housed at the NEHGS research library in Boston, the records will be made available to on-site researchers and to those using the NEHGS Research Services from a distance. In 2001, NEHGS published a CD-ROM entitled Bible Records from the Manuscript Collections of the New England Historic Genealogical Society that contained thousands of birth, marriage, and death records. Future CDs will continue this series and further publicize the family data in the Bibles.
The NEHGS Bible Records Recruitment Campaign was officially inaugurated in March 2002 with a donation by Mr. Richard Bonney, an NEHGS member and volunteer from Needham, Massachusetts. Mr. Bonney donated a copy of a book titled Earthly Trials and Glory of the Immortal Life, published in Canastota, New York, in 1878. Although the book is not a Bible, it is close enough! Three pages of handwritten Whiting family records make it a valuable family record artifact.
While NEHGS is always pleased to receive donations of original material, the Society is also grateful when photocopies of original records are donated. Even if you would rather not donate your family heirloom, please consider sharing the genealogically valuable information contained within it. Your distant cousins and future descendants will thank you for your foresight!
The NEHGS archivist has established guidelines for donations to the NEHGS Bible Records Project. NEHGS is seeking:
o Original Bibles (or other books containing family records), or
o Photocopies from such books with all pages containing family information as well as the title page
In either case, please include a short note with the donor's name, address, and how the Bible was acquired. People who donate Bibles or records to NEHGS will be recognized with a decorative certificate.
Please consider donating your family Bible (or a photocopy of its family record entries and title page) to NEHGS today! For more information about the Bible records project, please contact the special collections department staff (Tim Hughes at 617-226-1223 or thughes@nehgs.org, or Tim Salls at 617-226-1232 or tsalls@nehgs.org). Donations of Bibles or family records may be sent to: Special Collections Department, NEHGS, 101 Newbury St., Boston MA 02116.