Orner Bible Pages
These pages were separated from the Bible, so the
date of the Bible is unknown. There are only two Bible
pages here; the other two two pages that are traditionally
in a set are missing.
Acording to a Rootsweb GEDCOM, this family was from
Adams County, PA.
Transcribed by and in the possession of Tracy St. Claire,
tracy@stclaire.org.
SURNAMES:
ORNER
-----------------TRANSCRIPT STARTS-----------------
[Page One -- Family Record]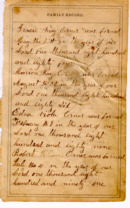 Gracie May Orner was borned May the 1st in the year of our Lord
one thousand eight hundred and eighty four
Marion Ray Orner was borned August th 22 in the year of our Lord
one thousand eight hundred and eighty six
Edna Viola Orner was borned Febuary th 9 in the year of our Lord
one thousand eight hundred and eighty nine
Robert William Orner was borned July the 4 in the year of our Lord
one thousand eight hundred and ninety one
[Page Two -- Family Record]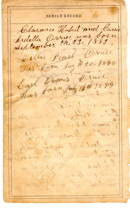 Clarence Hubert and Carrie Ardella Orner was born September th 23
1893
Lillie Pearl Orner Was Born Aug th 20 1896
Earl Evans Orner Was Born July 19th 1899
---------------END TRANSCRIPT----------------