Parsells Bible

This Bible is missing all title pages, making it hard to identify.
It also shows signs of being rebound. The dedication date
of 1875 might be close. The pages have gilded edges,
which indicates the last half of the 19th century, but the color
of the endpages (salmon) seems a little earlier, maybe 1830
through 1870.
This Bible is in fair condition. The one board is detached, and
the spine suffers. The old spine is behind the new one. The
family records are also pulled away from the binding except for
the last page of the Old Testament. It is possible that the page
gilding was done when it was rebound.
The LDS site puts the birth of Pierre Parsells and his marriage to
Lavinia Boyd in Brooklyn, Kings, NY.
Transcribed by and in possession of Tracy St. Claire,
.
SURNAMES:
PARSELLS
BOYD
DAY
BOHL
BEATTIE
MERRITT
SWAN
---------------START TRANSCRIPT-------------------------
[Page One -- Front Flyleaf]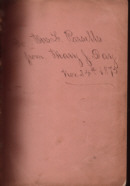 To Mrs. L. Parsells from Mary J. Day Nov. 24th 1875
[Page Two -- Reverse of Last Page of OT]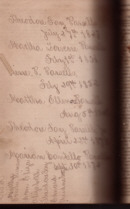 Theodore Fay Parsells July 27th 1827
Martha Laverre Parsells Feby 1st 1831
Pierre P. Parsells Feby 29th 1852
Martha Ellen Parsells Aug. 5th 1863
Theodore Fay Parsells, Jr. April 22nd 1870
Marian Cantello Parsells Sept. 30th 1872
Dead
Martha
Emily Ranson
Ann Eliza
Elizabeth
Theodore Fay
Edward
Theodore Fay II
[Page Three -- Marriages]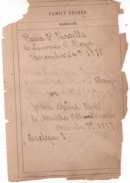 Pierre P. Parsells to Lavinia J. Boyd November 24th 1875
Theodore Fay Parsells to Martha Laverre Day February 22nd 1844
John David Bohl to Martha Ellenor Parsells December 1st 1887
Evelyn
[Page Four -- Births]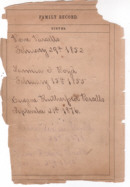 Pierre Parsells February 29th 1852
Lavinia J. Boyd February 15th 1855
Eugene Rutherford Parsells September 21st 1876
Hattie Louise Parsells September 23rd 1878
Pierre Herbert Parsells August 29th 1880
[Page Five -- Births]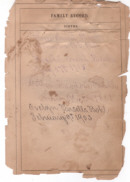 Pierre Ernest Parsells November 15th 1881
Harold Grant Parsells July 17th 1885
Esther Theodora Parsells March 3rd 4P.M. 1888
Evelyn Parsells Bohl February 9th 1903
[Page Six -- Deaths]
Obituary Clippings:
BEATTIE--On Sunday, January 26, ELIZABETH SAXTON BEATTIE,
in the 71st year of her age.
Relatives and friends are respectfully invited to attend funeral services
at the residence of her brother-in-law, Eugene S. Boyd, 106 Fort Greene
place, on Tuesday evening, January 28, at 8 o'clock.
PARSELLS--On the 26th inst., of diptheria, HATTIE LOUISE, infant
daughter of Pierre and Lavinia Parsells. Buried in Cyprus Hills.
[Rahway papers please copy.]
Pierre Herbert Parsells October 2nd 1880
Eliza Merritt June 14th 1911
Eugene Boyd May 25th 1912
Esther Boyd Aug 1914
Eugene Parsells July 12th 1908
Harry Parsells July 18 - 1921
Pierre Parsells Aug 1928
[Page Seven -- Blank Page]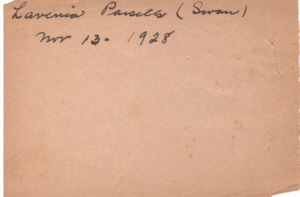 Lavinia Parsells (Swan) Nov. 13 - 1928
[death date according to familysearch.org]
------------END TRANSCRIPT-------------------------------