Peterson Bible
Biblia Thet är All then Helgha Skrift, Jönföping, 1831.
--This is a Swedish Bible, I am pretty sure, and if I
transcribed the non-English characters incorrectly
someone please correct this. It is being indexed by
a zillion search engines that way, and who knows if
a family member might not find it because of my
ignorance in this area. I do the best that I can.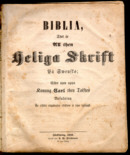 This Bible is in fair condition. The binding is solid,
but is holding on by the ropes. The binding is wooden.
with ornamental silver latches with the accompanying
leather straps long gone. The pages are in fine condition
with foxing. The spine has loss at the top and bottom.
It is missing the front and rear end papers.
Knoxville and Galesburg are adjacent towns in western
Illinois with heavy Swedish populations. The Knox County
site at USGENWEB has a good amount of information
on this family. It appears that Jennie married Thomas,
and they were both buried in the county. No other Molins
were. Did they die without any children?
Transcribed by in the possession of Tracy St. Claire,
tracy@stclaire.org.
SURNAMES:
PETERSON
MOLIN
-----------------TRANSCRIPT STARTS-----------------
[Inside Front Cover]

John Peterson född i BroKamala
Jemshags Sakken den 27 October 1830
Reste fran Sverige den 12te June 1854
Kom till Knoxvill den 4th August
Malena Peterson född i Knagshullt
Wanga Socken den 17th Mars 1832
Kom till Amaerica 1854
ingeek i Aktenskap den 19th January 1856
Sonen Samuel född i Galesburg 29th June 1858
Dag den 7th Juli Sanma ar
Foster Sonen Samuel dag den 11 to
Juli 1864 7 ar 8 Manada 11 dager
Datter Anna född 29 Mars 1865
dag den 4d April 1866 1 ar 6 dager
Jennie Amalia Peterson född den 22 Feb 1868
[Inside Back Cover]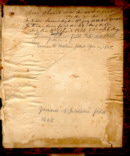 Sonen Samuel född den 29 June 1858
dog den 7d Juli " "
Fosterson Samuel dog den 11th July 1864 7 ar 8m 11 d
Dottren Anna född den 29 Mars 1865
Dog den 4th April 1866 1 ar och 6 dager
Jenny Amalia Peterson född Febr 22 1868
Thomas W. Molin född Apr. 2 1855.
Jennie A Peterson född 1868
---------------END TRANSCRIPT----------------