Pratt Family Record
This is a letter containing genealogy information that
was written in 1861. It is not clear who it was sent to,
or whether there is another page. This is all I have.
He all but admits that he is doing this from memory, and
that his sister Elmira has "the Old family Bible". There is
discussion at the end about getting those dates and the
Bible itself. Wherever that Bible is, I don't have it.
I took some liberties in reformatting the text, to make it easier
for me to put into HTML. See the scans for the original
layout.
Transcribed by and in the possession of Tracy St. Claire,
tracy@stclaire.org.
SURNAMES:
LEONARD
PRATT
CHRISTIAN
WILSON
-----------------TRANSCRIPT STARTS-----------------
[Page One]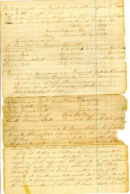 My mother's father was David Leonard, I think possibly David
of a Middleborough family.
Her mother's maiden name was Mary (called Polly) Leonard of
Bridgewater.
Clarinda Leonard (my mother) was born at Bridgewater October
23d 1799 married Bridgewater Dec. -- 1821 Died Tremont Ills
May 3d 1845
Her children as follows
Wm. Henry Pratt born Bridgewater Sept. 6, 1822.
Harrisson Pratt " " Oct. 11th 1824 Died Bridgewater Oct. 11th 1825
Lucius Pratt " " April 11th 182- " " April 13th 182-
Edwin Leonard Pratt " Febry 11th 1831 " " about Sept. 1834
Elmira Pratt " Feby 11th 1831 (living)
My wife's maiden name was Elizabeth Matilda Christian born in Halifax
England, April 3d, 1829, came to America at 13 years of age. We were
married in Chicago (though both resided at St. Charles) Ills. February 3d
1849.
Our children are:
Ella Louisa Pratt born at Fremont Ills Dec. 29, 1849
Lucy Matilda Pratt " " " May 3d, 1851
Mary Elmira Pratt " " " July 20, 1853
Franky Laura Pratt " " Peoria Ills. May 6, 1856
Chester Loammi Pratt " " Davenport, Iowa October 17, 1858
Elmira was married to Isaac Wilson Jr. of Lasalle County, Ills in 1850.
I do not know the exact da[rip]. Of their children I cannot tell you exactly.
There [rip] a son & daughter living & received & lost the same day, (last
New Year's), a pair of twins.
I send today a letter to her, requesting her to send immediately to you and
to me each a full copy of the record of my father's family and her own. She
has the "Old family Bible" & I have not a copy of the record it contains but
want it. & if you do not obtain it from her or whether or not I will send
the remainder of those I have left blank
[Page Two]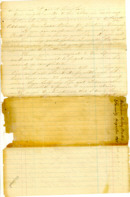 as soon as I get it from her.
You might write to her also in case my letter should be miscarried or delayed.
Address Mrs. Isaac Wilson Jr. Bectown, Wisconsin
If you can send me the genealogy of the Pratt family as far as you have it you
will confer a very great favor. I made the request some years ago but you probably
never received the letter.
Please give my respects to Mr. Spooner and ask him not to forget me when his
record is completed.
When you write again tell me where you live and all about it.for although I have
been over 22 years from there much more than half my life, yet I remember every
locality & person & circumstance with such distinctiveness that I dearly love to
hear from there. W.H.P.
William Henry Pratt's
Family Register 1861
[this is in another handwriting]