Preisendorfer Bible
The Holy Bible Translated from the Latin Vulgate, John Murphy Company,
Baltimore, New York, Letter of Approbation Dated 1899.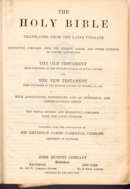 This Bible is in poor condition. This Bible was published as a daily use Bible
and not as a generational Bible, and so the spine is nearly disintegrated,
and the page signatires are coming apart. It is holding together with clear
tape. There are just a few entries, but ... here they are.
In the 1880 US Federal census, infant Adam and his 3 year old brother Frank
are in Defiance County, Ohio, in the household of clergyman B.W. Slagle and
his wife. Frank and Adam are listed as sons, although they obviously aren't
biological sons. Their father is listed as from Bavaria and mother from Ohio.
Transcribed by and in the possession of Tracy St. Claire, tracy@stclaire.org.
SURNAMES:
PREISENDORFER
ROWE
-----------------TRANSCRIPT STARTS-----------------
[Page One -- Births]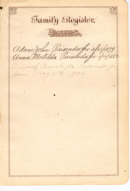 Adam John Preisendorfer 3/25/1879
Anna Matilda Preisendorfer 11/10/1882
Mildred Annabelle Preisendorfer born May 4th 1906
[Page Two -- Marriages]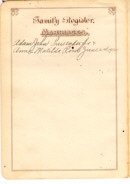 Adam John Preisendorfer & Anna Matilda Rowe
June 21st 1905
---------------END TRANSCRIPT----------------