Richardson Bible

This bible was up for auction on ebay in February 2003. The seller gave permission for the following photographs and transcriptions to be submitted to the site.
Transcribed by Tara Hawkins.
Description:
1800's Victorian Family Bible with Full and Complete Marginal Reference and Notes and the Apocrypha, Concordance and Psalms in Metre to which are added Blackwood's Comprehensive Aids to the Study of the Sacred Scriptures with Nevin's New and Improved Dictionary of the Bible. It was published by John E. Potter and Co. in Philadelphia - no date. Dimensions: 12" x 10 ½ " x 4".
The LDS site (familysearch.org) places Ahira Richardson and Emma Soules as being born in Vermont, and their children being born in Massachusetts [TSC].
SURNAMES:
RICHARDSON
SOULE
------------------------------------------------------------------------
Marriage
Alina(?) S. Richardson October 12th 1870
Emma B. Soule(?)

Births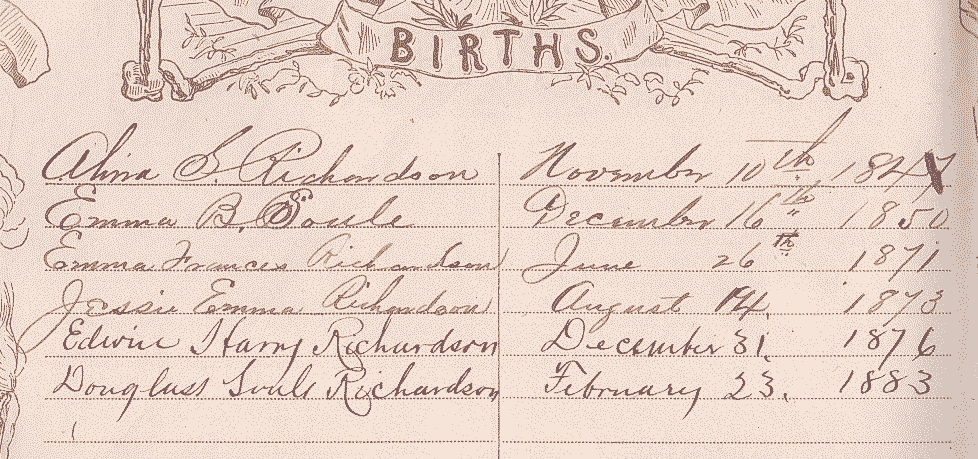 Alina(?) S. Richardson November 10th 1847
Emma B. Soule December 16th 1850
Emma Frances Richardson June 26th 1871
Jessie Emma Richardson August 14 1873
Edwin Harry Richardson December 31 1876
Douglass Soule Richardson February 23 1883
Deaths

Emma Frances Richardson August 9th 1871
Douglass Soule Richardson April 24th 1883