Richardson Bible
This Bible record was transcribed from Fragmenta Genealogica,
Volume 7, Frederick Arthur Crisp, 1902, p 13.
Kindly transcribed by Barb Donovan.
SURNAMES:
RICHARDSON
BURBIDGE
Below this line, verbatim from source.
-------------------------------------------------------------------
RICHARDSON FAMILY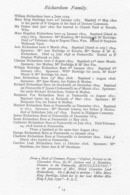 William Richardson born 4 June 1779.
Mary King Burbidge born 22nd Jan 1782. Married 1st May 1802 in the parish of St. Gregory at the back of Doctors Commons.
My Father died Jan. 1802 lies burried in Church Yard at Knoyle, Wilts.
Mary Humfrey Richardson born 24 January 1803. Baptized [blank in orig.] 1803. Sponsors: Mrs. Humfrey, Mrs. Burbidge & Mr. Burbidge. Died 21st February 1849 at Regent Place, West. Buried St. Stephens Walbrook Vault.
Ann Richardson born 6 March 1804. Baptized [blank in orig.] 1804. Sponsors: Mrs. Ann Burbidge of Knoyle, Mrs Shuter & Mr. R. Richardson. Died 15 July 1836 at Pentonville. Buried at St. Stephen Walbrook 22 July.
Clarissa Richardson born 6 August 1805. Baptised 27th same Month. Sponsors: her Mother, Mrs. Burbidge & Mr. Ben Fox.
William Burbidge Richardson Born 6th January 1807. Baptised 6th Feburary 1807. Sponsors: William Burbidge his uncle, Mr. Richard Shuter & Mrs. Burbidge his Aunt.
Jane Richardson Born 23rd May 1808. Baptised 1 August 1808, Sponsors: Mrs. Jane Shuter, her Father & Mother.
Richard Richardson Born (at Stockwell) 26 December 1809. Baptized (at Pentonville St. James Clerkenwell) on 2nd March 1812. Sponsors: his uncle Richard Richardson, Father & Mother.
Benjamin Fox Richardson Born at Pentonville 10 August 1811. Baptized (same day as Richard) 2nd March 1812. Sponsors: Mr. Benjamin Fox, his Father & Mother.
Harriett Richardson Born at Pentonville 20 December 1812. Baptised in 1813. Sponsors: Mrs. Harriett Inkson, her Father & Mother. Died at Sydenham July 23rd 1850. Buried in Highgate Cemetery.
James Richardson Born at Pentonville 18 December 1814.
Sarah Richardson Born at Pentonville 17 May 1816.
Catherine Richardson Born at Pentonville 26 July 1817. Died February 24, 1818 buried at Pentonville. These 3 baptized at the same time August 1817.
George Richardson Born at Pentonville 12 January 1819.

Charlotte Richardson Born at Pentonville 10 December 1820. Died 3rd March 1822 buried at Pentonville.
Caroline Leah Richardson born 21 October 1826. Sponsors: Mrs. Steedman, her Sister Ann & Mr. Steedman.
From a Book of Common Prayer, "Oxford, Printed at the Clarendon Press, By W. Jackson and A. Hamilton, Printers to the University, MDCCLXXXVIII; " in the possession of Mrs. Welch (Caroline Leah Richardson). On a fly-leaf is written: "Miss Mary King Burbidge, Given her by her God Mother Miss King 8 July 1790." - F.A.C.
------------------------------------------------------------------------