Rockafellar Bible Pages
These pages were separated from the Bible, so the
date of the Bible is unknown.
These towns are in Hunterdon County, New Jersey.
Transcribed by and in the possession of Tracy St. Claire,
tracy@stclaire.org.
SURNAMES:
ROCKAFELLAR
GARDNER
CODRINGTON
SERGEANT
-----------------TRANSCRIPT STARTS-----------------
[Page One -- Marriage Certificate]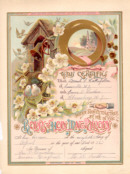 This Certifies That Daniel I. Rockafellar of Somerville N.J.
and Laura E. Gardner of Bloomsbury N.J.
Were Joined Together By Me in the Bonds of Holy Matrimony
At Her Home on the eighth 8th day of April in the year of our Lord
1875
In Presence of
Sne E. Gardner
Emma Hoagland
Signed
N. B. Scolh
[Page Two -- Marriages]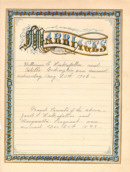 William G. Rockafellar and Estelle Codrington were married Wednesday
Aug 20th 1902
Grand Parents of the Above --
Jacob I. Rockafellar and Margaretta Sergeant were married Dec 20th 1843
[Page Three -- Births]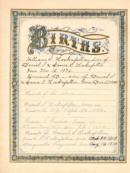 William G. Rockafellar. Son of Daniel I. & Laura E. Rockafellar
born Nov 12. 1876.
Howard D. son of Daniel I. & Laura E. Rockafellar born Dec 27 1882
Parents of the above
Daniel I. Rockafellar born in Somerville N.J. Sept. 24. 1844.
Laura E. Gardner. born in Bloomsbury N.Y. Nov 22 1852
Parents of Daniel I. Rockafellar.
Jacob I. Rockafellar born Oct. 24 1813.
Marguretta Sergeant born Aug 16 1814.
[Page Four -- Deaths]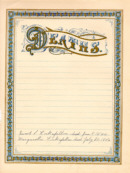 Jacob I. Rockafellar died Jan. 5. 1866.
Margaretta Rockafellar died July 28. 1886
---------------END TRANSCRIPT----------------