Roy Bible

This Bible records was transcribed from the Virginia Magazine of
History and Biography, Vol. VIII - No.3, January 1901, p 331.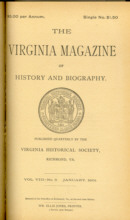 SURNAMES:
ROY
MICOU
BAYLOR
BULLOCK
As below, verbatim from source, with some formatting changes to
improve readibility. The [sic] comment below is mine. [The late Dr.
John R. Baylor.] is in the original.
-----------------------------------------------------------------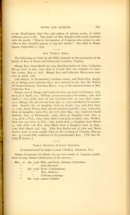 ROY FAMILY BIBLE
The following are from an old Bible formerly in the possession of the
family of Roy of Essex and Gloucester counties, Virginia:
Mungo Roy, born March 25, 1742, died September 16, 1815; Catherine
Micou, born 19 Jan., 1746, died at Locust Hill, her resdence [sic] in
Caroline county, May 10, 1827. Mungo Roy and Catherine Micou were
married 29 April, 1766.
John Baylor, of Newmarket, Caroline county, and Maria Roy, daughter
of Mungo and Catherine Roy, were married by the Rev. Mr. Wilson of
Fredericksburg, Thursday May 6, 1819, at the mansion home of
Catherine Roy.
Mungo, son of Mungo and Catherine Roy was born 17 February 1767,
died 2d of April, 1771;
William, 2d son was born 7 November, 1768, died April 11, 1815;
John, their 3d son was born Feb. 18, 1770, died 7 June, 1772;
Mungo, the 4th son was born Jan. 11, 1772, and died 27 November,
1802.
Beatrix, the 1st daughter, born 20 of Jan. 1773, and died Sept. 12,
1798;
James Henry, their 5th son was born 23d Dec. 1775;
Catherine, their 2d daughter, born Feb. 2d, 1778, died May, 1850
(married David Bulluck, Esq., of Richmond).
Jean, their 3d daughter born Dec. 9, 1779, died 12 Feb., 1825;
John, their 6 son born 25 April, 1782;
Walker, their last son born 25 Feb., 1784;
Judith their 4 daughter born March 27, 1786, died 11th Nov. 1809;
Maria their 5 daughter born 27 Sept., 1790, died March 23d, 1850.
John Roy Baylor son of John and Maria Baylor, born at early candle
light on the evening of Tuesday, May 29, 1821, at Locust Hill,
residence of his grandmother Roy. [The late Dr. John R. Baylor.]
-----------------------------------------------------------------