Russell Bible
The Holy Bible, Containing the Old and New Testaments,
London, Printed by C. Baldwin, New Bridge Street, 1810.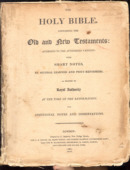 This Bible is in poor condition. The spine and front cover
are missing, as are all pages up to the general title page.
I do not know where this family was located. There are many
Salems.
Transcribed by and in the possession of Tracy St. Claire,
tracy@stclaire.org.
SURNAMES:
PARIS
MELON
RUSSELL
-----------------TRANSCRIPT STARTS-----------------
[Page One -- Title Page]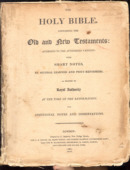 Diy [?] Francis Paris
October 30th 1832
Nannie ??
[Page Two -- Appendix After Old Testament]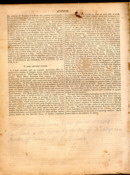 Lizzie Melon was born June 10th 1869
Babtized in the house by the Rev. J. Y. Chaplain
pastor of Salem M. E. Church
[Page Three -- Blank Page Opposite Page Two]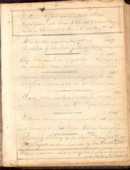 William Rufsell was born March 10th 1855
Baptized at the house by the Rev. G. Dixon Rowen
Pastor in Salem M.E. Church Died Feb. 7th 1862
John Cullen was born Feb. 9th 1857
Baptized by Rev. Anthony Atwood Pastor of Salem in House
Eliza Ann was born Jany 3rd 1859 Baptized by the
Rev. Joseph A. Mason Pastor of Salem in our House
Alexander Embury was born August 29th 1861
Baptized at House by the Rev. Wm. Poames Pastor of Salem
Mary Jane was born September 9th 1862 Bapt.
in our house by the Rev. Wm. Major Pastor of Salem
William James was born June 1st 1864 Baptized 1865
in our house by the Rev. Adam Walace Pastor of Salem
Thomas Story was born Jany 25th 1867
Baptized in our house by Rev. P.F. Chaplain Pastor of Salem
William was born and died in July 1853 baptized by Rev. W.
Cox Pastor of St. Paul M. E.
---------------END TRANSCRIPT----------------