Sanborn Bible Pages
These Bible pages were separated from the rest of the Bible at
some point, so the date of the Bible itself is unknown. I
estimate it at around mid-19th century. It appears to me that
everything up to 1850 was written at once, although later entries
are also in the same handwriting. I'm no expert, use your own
judgment.
Transcribed by and in the possession of Tracy St. Claire,
tracy@stclaire.org.
SURNAMES:
SANBORN
CARTER
BROOKS
EMERSON
PARKER

-----------------TRANSCRIPT STARTS-----------------
[Page One -- Family Record Marriages]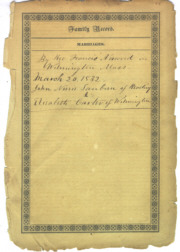 By Rev. Francis Norwood in Wilmington Mass March 20 1832
John Norris Sanborn of Reading
&
Elisabeth Carter of Wilmington
[Page Two -- Family Record Marriages]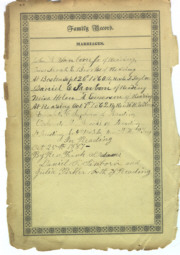 John A. Sanborn Jr. of Reading
Miss Sarah E. Brooks of Reading
At Boston Sept. 26th 1860 By Rev E. F. Taylor
Daniel C. Sanborn of Reading
Miss Helen A. Emerson of Reading
At Reading Oct 7th 1862 By Rev W. H. Wilcox
Elisabeth C. Sanborn of Reading
Orlando M. Brooks of Reading
At Reading Nov 4th 1863 [?] by Rev W. H. Wilcox
In Reading
Oct 25th 1887
By Rev Frank S. Adams
Daniel C. Sanborn and Julia Parker both of Reading
[Page Three -- Family Record Births]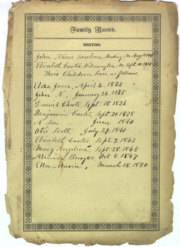 John Norris Sanborn Reading Ms Aug 13 1809
Elisabeth Carter Wilmington Ms. Sept. 10 1805
Their Children
Eliza Jane April 2 1833
John N. January 23. 1835
Daniel Chute, Sept. 15 1836
Benjamin Carter, Sept 30. 1838
A Son June 1840
Otis Scott, July 29 1841
Elisabeth Carter, Sept. 9. 1843
Mary Angelina Sept. 28. 1845
Almira Burgess, Oct. 5. 1847
Ella Maria, March 15. 1850
[Page Four -- Family Records Deaths]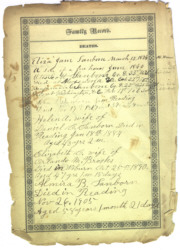 Eliza Jane Sanborn March 13 1834 AE 11 mos
A son of a few hours June 1840
Otis Scott Sanborn Co. D. 33rd MV Aged 21
years 2 mo 2 D [?] Died at Alexandria Va.
Oct 22nd 1862
Benjamin C. Sanborn Co. D. 22nd Regt. ?? V.
24 yrs 4 mo 17 d Died at Washington D.C.
Feb 19th 1863
John N. Sanborn Jr in Reading Died Nov 19th
1867 Aged 18 years 9 months
Helen A. wife of Daniel C. Sanborn Died in
Reading Jan 18th 1884 Aged 48 yrs 2 m
Elisabeth C. wife of Orlando M. Brooks Died
in Woburn Oct 25th 1890 aged 47 yrs 1m 15 days
Almira B. Sanborn Died in Reading Nov 26, 1905
Aged 58 years 1 month 21 days
[Page Five -- Deaths]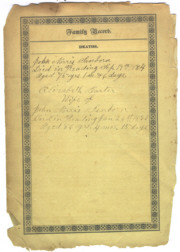 John Norris Sanborn Died in Reading Sep 19th 1884
Aged 75 yrs 1m & 6 days
Elizabeth Carter Wife of John Norris Sanborn Died
in Reading Jan 26th 1892 Aged 86 yrs 4 mos 15 days
[Page Six -- Family Record Deaths]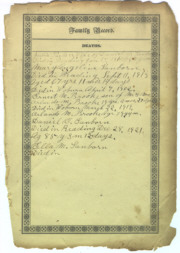 Julia Parker wife of Daniel C. Sanborn Died in Reading
Jan 19, 1910 Ag 67 Years
Mary Angelina Sanborn Died in Reading Sept 11 1919
Aged 67 yrs 11 mos 14 days
Died in Woburn April 7, 1902.
Ernest M. Brooks, son of Mr. & Mrs Orlando M. Brooks
19 yrs. 2 mos 27 dys
Died in Woburn March 22, 1919, Orlando M. Brooks Age 79 y 4 m
Daniel C. Sanborn Died in Reading Dec 28, 1921 Ag
85 y 9 m 12 days
Ella M Sanborn Died in [blank]