Savage Bible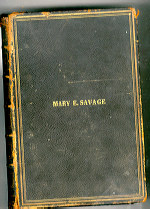 This Bible was purchased from a used bookstore in
Alabama.



American Bible Society, New York, 1873.

Mary E. Savage is embossed in gold on the cover.

This Bible is currently in the possession of Tracy St. Claire
tracy@stclaire.org

Undocumented sources on the Internet place Sarah
Chauncey's parents as Elihu Chauncey (b: 17 Jan 1779 in PA)
and Henrietta Teackle (b: 1770 in VA). Sarah is placed as
being born in Burlington County, NJ.

The same source places William Lyttleton Savage's parents
as Thomas Lyttleton Savage (b: 8 Jan 1760 in Yorktown, VA)
and Margaret Teackle (b: 28 Feb 1778 in Northampton County,
VA). William's birthplace is listed as Northampton County, VA.
Take the above as undocumented.
I recently transcribed and posted the Chauncey Bible which
confirms the connection between Elihu Chauncey and Sarah
Savage.

SURNAMES:
SAVAGE
CHAUNCEY
BARCLAY
HOWELL
WILLING


TRANSCRIPT BEGINS HERE____________________

PAGE ONE



William Lyttleton Savage was born the 5th of September 1812,
about 11 o'clock p.m.

Sarah Chauncey (Savage) was born the 22d of June 1817 about
5 a.m.

William Lyttleton Savage and Sarah Chauncey were married the
11th of June 1840, about 1 p.m.

Henrietta Chauncey Savage, daughter of William Lyttleton and
Sarah Chauncey Savage, was born the 7th of June 1841, at 9 a.m.

William Lyttleton Savage, son of William Lyttleton and Sarah
Chauncey Savage, was born the 15th of October 1842, at
10 o'clock p.m.

PAGE TWO



Mary Eyre Savage, second daughter of William Lyttleton and
Sarah Chauncey Savage was born the 20th of March, 1845
at 25 minutes after 10 'clock, a.m.

Charles Chauncey Savage, second son of William Lyttleton
+ Sarah Chauncey Savage was born the 6th of June 1852,
at 10 o'clock a.m.

Henry Chauncey Savage, third son of William Lyttleton and
Sarah Chauncey Savage, was born the 26th of February, 1855
at 10 minutes after 10 o'clock a.m.

Albert Lyttleton Savage, fourth son of William Lyttleton and
Sarah Chauncey Savage, was born the 3rd of January at 14
minutes after 8 o'clock p.m. [date missing, not a typo]

PAGE THREE

Henrietta Chauncey Savage was married to A. Charles Barclay
on the 17th day of January 1867

Mary Eyre Savage was married to Joshua Ladd Howell on the
15th of April 1875.

Evelyn Virginia, daughter of Mary Eyre and Joshua Ladd Howell,
was born July 7th 1877, at about half past 2 o'clock p.m.

PAGE FOUR



William Lyttleton Savage died on Christmas day, 1867

Joshua Ladd Howell died on the 19th of August 1893

Sarah Chauncey Savage died on the 20th of May 1895

Evelyn Virginia Howell was married to George Willing April
20th 1910 -

Evelyn Eyre Willing daughter to Evelyn Virginia and George
Willing was born April 18th 1914-
------------END TRANSCRIPT-------------------