Snell Bible
Jeremiah SNELL Bible, Little Falls, NY
The New Testament of Our Lord and Saviour Jesus Christ,
Philadelphia, Jesper Harding, 1846. (NT Title Page info
only, other info is missing).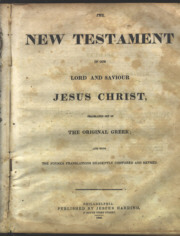 This Bible is in fair condition. Binding and spine are
both present but both boards are detached and spine has some
cracks and loss. Content loss to Genesis Chapter 4-5 (numbered
page eleven) although a torn flyleaf remains in front.
One of the two family record sheets was removed, leaving
one page (front and back) with information. Jeremish
apparently had a second wife after Permelia died -- perhaps
the other family record page contained her information, and
the missing title page and family record page was taken by
her family. Just a guess, because with these things you never
know.
Transcribed by and in the possession of Tracy St. Claire,
tracy@stclaire.org.
SURNAMES:
SNELL
WIRE
-----------------TRANSCRIPT STARTS-----------------
[Page One -- Front Flyleaf]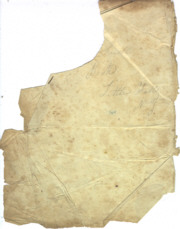 [torn]Snell
Little Falls,
N.Y.
[Page Two -- Marriages/Births]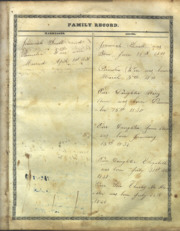 Jeremiah Snell and Permelia Wire were married
April 1st 1830
Jeremiah Snell was born June 20th 1811
Permelia Wire was born March 5th 1811
Our Daughter Mary Ann was born December 15th 1830
Our Daughter Jane Ann was born January 15th 1834
Our Daughter Elizabeth was born July 31st 1837
Our Son Charles McAlester was born July 12th 1840
[Page Three -- Births/Deaths]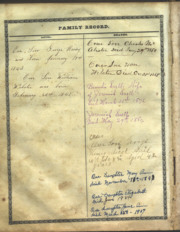 Our Son George Henry was born January 19th 1843
Our Son William Webster was born February 20th 1848
Our Son Charles McAlester Died Jany 29th 1850
Our Son Wm Webster Died December 31st 1865
Permelia Snell Wife of Jeremiah Snell Died March 31st 1871
Jeremiah Snell Died May 29th 1880
[illegible -- maybe "died"]
Our Son George Henry died April 6th 1885 Aged 42 years
Our daughter Mary Ann died November 15 [or 11] 1893
Our Daughter Elizabeth died June 1904
Our daughter Jane Ann died March 22nd 1907

---------------END TRANSCRIPT----------------