Snelling Bible
This Bible was submitted by John Crump. The Bible was transcribed by him and is in his possession.

The question marks are his as are all comments in parentheses.
This family is found in Union, Nicholas County, Kentucky in the 1880 US Census. All members
of the family were born in KY, and all are listed as having their parents born in KY (including
Thomas and Sarah).
SURNAMES:
SNELLING
PRATER
THOMPSON
MARSHALL
-----------------------------------------------------------------------
Births page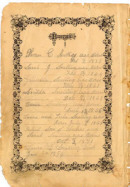 Thomas C Snelling was born Feb 2, 1838
(It looks like someone tried to write or trace over Thomas C Snelling and not too well. Perhaps someone trying to learn to write their name?)
Sarah J. Snelling was born Feb 17, 1844
Grisselda Snelling was born May 9, 1861; d. March 11, 1868?
Sirrilda? Airrilda? Snelling was born Dec 31, 1863 (Cirrilace in 1880 census?)
Bessie Snelling was born April 12? 1866 (Carrie in 1880 census?)
Laura and Lula Snelling was born July 2, 1868
Laura B Snelling died Jan 24 1896 (Deaths page was full)
Infant son of Thomas and Sarah Snelling was born Oct 2, 1871
Deaths page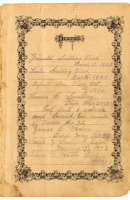 Grisseld Snelling died March 11, 1868?
Lula Snelling died Dec 15, 1868
Infant son died Oct 2, 1871
Thomas C Snelling died Dec 25, 1884? half past 1 o'clock and burried ten minuts of 12 the 26
James C? Prater died May 10, 1892
Sarah J Snelling died January 24, 1893
Lilia B Prater died March 22, 1893
Memoranda page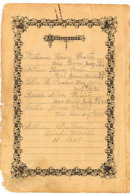 William Henry Prater was born May 15? 13? 1868
Arthur Henry Prater was born April 22, 1890; died March 11, 1909
Lelia B Prater was born May 18, 1891; died March 22, 1893
Bessie Aline Prater was born July 21, 1892
Sadie Thomas Prater was born Aug 1?, 1895
Arthur Prather died March 11, 1909
Marriages page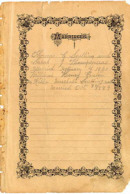 Thomas C Snelling and Sarah J Thompson was married February 7? 1860
William Henry Prater & Arilla? Rilla? Marshall Snelling was married Oct 30, 1889