Stanley Family Record
Submitted by Patty Delmott in June, 2004.

"This is not a bible, but the Adjutant General's Report, Kansas
1861-1865. This is a large book filled with the names of men who served
Kansas in the Civil War. There are 654 pages of regiments with the name
and rank of the volunteers, residence, date of enlistment, date of
muster, remarks. There are 240 more pages of Military History of Kansas
Regiments during the war for the suppression of the great rebellion.
The book is a hard back book bound in a maroon color. I bought this
book at a Friends of the Library sale. Published in Topeka, The Kansas
State Printing Company, J. K. Hudson, State Printer. 1896.

Also in the book is a pressed fern leaf, page 127 with the name written
on the top of the page in pencil, "Mrs H/C [?]elt." [Velt or Gelt or
Nelt?] with Charley" written above the initials.
On page 91 in the back section of the book are remnants of pine needles
and the name "Ziola Stanley" written in pencil on the top of the page.
Currently I, Patty Delmott, have the book, but I'm seriously considering
donating it to the genealogy section of the Emporia Public Library, 110
East 6th Ave, Emporia, KS 66801 (620) 340-6462.
The owner appears to have lived in Meriden, Kansas, north of Topeka, KS
in Shawnee County."
SURNAMES:
STANLEY
OGAN
Transcript:
Inside front cover:
Samuel Ogan.
Meriden Kans.

first page:
Births
George Albert Stanley was Born Dec 21 1902.
Elzie Stanley was Born Oct 7 - 1904.
Floid Stanley was Born Dec 17 - 1905
Vera Lola Stanley was Born. July 27 1907.
Garould [or Gawuld] Evert Stanley. was Born Oct 22 1915

Death [A???]
Elzie Stanley died March 2 1905
Floid Stanley died Jan 29 - 1906

page 127: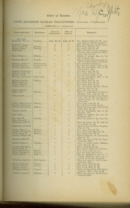 Mrs H/C Velt. [or Nelt or Gelt] Charley [written above the initials]

page 91 of 2nd section:

Ziola Stanley