Steelman Bible

This is a set of two pages (four sides) that have been
removed from a large Bible. The pages are consistent
with those in the mid-19th century.
Transcribed by and in possession of Tracy St. Claire,
tracy@stclaire.org.
Internet sources place this family in Cape May, NJ.
Scanned images are at http://www.Biblerecords.com .
Please examine these images and make up your own mind --
there are several places that are ambiguous.
SURNAMES:
STEELMAN
VAN GILDER
CHAMPION
IRELAN
MARSHALL
STILL
[Page One -- Marriages]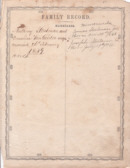 Anthony Steelman and Emaline Van Gilder were married
26th February 1849
memoranda
Jonas Steelman Jr. Born Nov 24th 1833
Joseph Steelman Sr. Born July 29th 1836
[Page Two -- Births]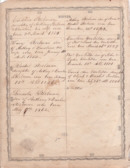 Cordelia Steelman daughter of Anthony Steelman & Emaline
his wife was born 2d March 1850
Harry Steelman son of Anthony & Emaline his wife was born
January 13th A.D. 1853
Rachel Steelman daughter of Anthony & Emaline Steelman
was born February 15th A.D. 1856
Lincoln Steelman son of Anthony & Emaline Steelman was
born May 7th 1861
Anthony Steelman son of Jonas & Rachel Steelman was born
December 23rd 1823
Emaline Van Gilder daughter of Thos. & Sarah Ann Van Gilder
was born March 26th 1827
Thos Van Gilder son of John & Lydia Van Gilder was born
December 13th A.D. 1801
Sarah Ann Van Gilder daughter of Elijah & Rachel Irelan [?]
was born July 26th A.D. 1806
[Page Three -- Births]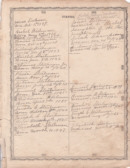 Jonas Steelman
Born Oct 9th 1797
Rachel Steelman
Born May 3rd 1800
Died April 30th 1874
Thomas Steelman
Born Oct. 29th 1821
Anthony Steelman
Born Dec. 23rd 1823
Martha Steelman
Born Jan. 3rd 1826
Thomas Steelman, Jr.
Born May 12th 1828
Phebe Steelman
Born Nov. 7th 1830
Julian Steelman
Born July 26th 1833
Samuel Steelman
Born Dec. 30th 1835
Roxanna Steelman
Born April 7th 1838
Sarah C. Steelman
Born October 8th 1840
Joseph C. Steelman
Born March 5th 1845
Elizabeth Steelman
Born March 10 1847
(Rachel Steelman Marshalls
Great Grand Parents) [in pencil, written later]
Jonas Steelman
married to Rachel
daughter of the Rev.
Joseph and
Sarah Champion
December 20th 1820
Anthony Steelman Deceased Apr. 30th 1900.
Samuel Steelman Deceased June 23 - 1899
Roxanna B. Steelman Still
Deceased Sept. 9th 1902
Sarah C. Steelman
Deceased March 13th 1865
Joseph C. Steelman
Deceased Aug. 11th 1865
Elizabeth Steelman
Deceased March 10th 1847
[Page Four -- Deaths]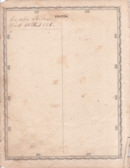 Cordelia Steelman
Died 15th June 1851

-------------------------------------------------------------