Still Bible

The New Testament of Our Lord and Savior Jesus Christ,
New York, American Bible Society, 1880.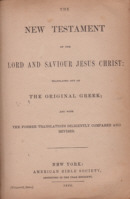 This Bible's title page is missing. The above was
copied from the New Testament title page. The Old
Testament is present.
This Bible is in pretty good condition. The binding
is still there although shaken. No pages except the
title page appear missing, although the pages are
brittle and acidic because of the quality of the paper.
There are many rips and tears.
This lady had some big kids. I hope she got the credit
she deserved on Mother's Day. 11 pounds, holy cow!
Clarence died in October of 1973, per the SS death index.
Transcribed by and in the possession of Tracy St. Claire,
tracy@stclaire.org.
SURNAMES:
STILL
FRINK
GORTON
SHEFFIELD
-----------------TRANSCRIPT STARTS-----------------
[Front Flyleaf]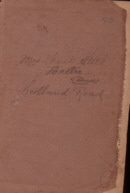 Mrs. Frank Still
Baltic Conn
Scotland Road
[Page One -- Marriages]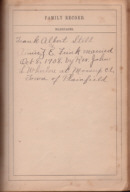 Frank Albert Still & Annie Z. E. Frink married
Oct. 8, 1908. by Rev. John L. Wheeler at Moosup
Ct, Town of Plainfield.
[Page Two -- Births]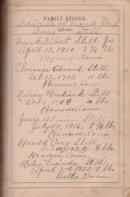 Children of Frank and Annie Still
Frank Albert Still Jr
April 13, 1910 9 3/4 lbs.
Moosup, Conn.
Clarence Edward Still
Feb 12, 1913. 11 lbs
Hanover, Conn.
Nelson Frederick Still
Oct 5, 1914 10 lbs
Hanover, Conn.
Jessie Almira Still
July 25, 1916, 8 3/4 lbs
Hanover, Conn.
Harold Cary Still
Feb 10, 1920 8 lbs.
Hanover, Conn.
Helen Lucinda Still
April 3rd 1922 9 lbs
Baltic, Conn.
[Page Three -- Deaths]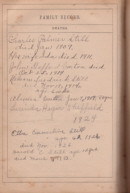 Charles Palmer Still
died Jan 1909.
His wife Ida died 1911.
John Stafford Gorton died
Oct 25, 1914
Nelson Frederick Still
died Nov 17, 1914 -
age 6 wks
Almira Gorton Jan 7, 1919 80 yrs
Lucinda Hagar Sheffield 1924
Etta Emmeline Still age 62 1926
died Nov 1926
Harold C Still age 12 yrs
died March 7, 1932.
---------------END TRANSCRIPT----------------