Stokland Bible
Bibelen eller den Hellige Shrift, New York, American Bible
Society, 1850. This is a medium-sized, Norwegian Bible
printed in New York.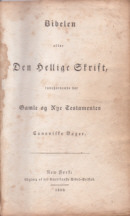 Jens Stokland (Stockland) and wife Magdalena are found in the 1920
US Census in Whitewater, Walworth County, Wisconsin with
sons Elmer and Albert. Magdalena was born in Norway, but
Jens and both sons were born in Wisconsin. Both of Jens'
parents are full were born in Norway.
The secondary family leaf (which usually contains births and
deaths) is missing from this volume.
This Bible is in the possession of Tracy St. Claire and transcribed
to the best of my ability. The Norwegian transcription is done
without any knowledge of the language or appropriate font.
Help appreciated.
SURNAMES:
STOKLAND
STOCKLAND
HELGESEN
CONDOR
ANDERSEN
-----------------TRANSCRIPT STARTS-----------------
[Page One -- Inside Front Cover]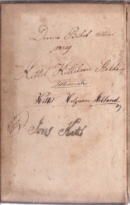 Denns Bibel Tilhöver
mig
Kittil Kittilsen Stokland
Tilhövonde
Kittil Helgeson Stokland
[illegible] Jens Kitel
[Page Two -- Opposite Page One]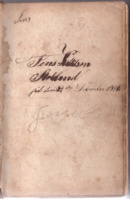 Jens
Jens Kittilsen Stockland
fod den 24 de December 1858 [1859 crossed out?]
Jens Kil
[Page Three -- Front Flyleaf. This page is almost too faint to
make out]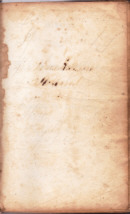 John Condor
I promise to pay
the bearer the ??
f??
?? ?? ??
??
[Page Four -- Family Register]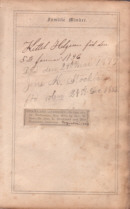 Kittil Helgesen föd den 5th Januar 1796
Død den 24de Mar 1879
Jens K. Stokland föd den 24de Dec. 1853.
[Clipping]
STOCKLAND-ANDERSEN. -- In this city
on Wednesday, May 30th. by Rev. W. Hare, Mr.
Jens K. Stockland and Miss Magdalena Andersen
[handwritten] Register. 1888.
[Page Five -- Rear Flyleaf]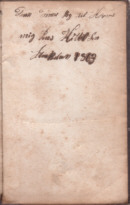 Den Penne B?? til H???
mig Jens Kittilsen
???? 1863
---------------END TRANSCRIPT----------------