Sturgess Bible
This is a pair of books owned by the same woman. One is a Catholic
"Manual of Prayers" published by John Murphy Company in 1916, and
the other is a small (Minion. 24 mo.) New Testament from A.J. Holman
and Company, copyright 1895.
Both pieces are in good condition, but with minimal genealogical
information. This family appears to be from Massachusetts from the
towns mentioned. There are photos and ephemera that contribute to the
overall family picture here.
Transcribed by and in the possession of Tracy St. Claire, tracy@stclaire.org .
SURNAMES:
STURGESS
SCOTT
KELLY
-----------------TRANSCRIPT STARTS-----------------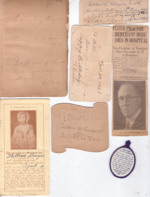 [Slip of Paper]
Lillian M. Sturgess, Scott
Birthday Date May 10th Born 1903
Elijah Scott my Husband
Birthday Date January 25th born 1897.
[Inscription on Bible]
Lillian May Surgess
From E. A. Fessn. 1912.
Let the word of Christ dwell in you richly in all wisdom.
Col. 3. 16
[Paper]
This Certificate witnesses that William Sturgess is a member of the
Society for the Propogation of the Faith for the year ending
April 1931.
[Obituary -- News Clipping]
Floyd Proctor Merchant Here Dies in Hospital
Vice President of Furniture Store Succumbs at 73
in Brookline
Floyd Gordon Proctor, 73, of 158 Pineywoods Ave., vice-president
and general manager of Proctor-Carnig, Inc., died Monday evening in
the New England Baptist Hospital, Brookline, after a long illness.
Lifelong Resident
He was born July 6, 1877 in Springfield, son of Martin and Clara
Continued on Page 19
[Obituary -- News Clipping]
William V. Sturgess
William V. Sturgess, 45, a chauffeur at Westfield State sanatorium for
20 years and a resident of this city for 30 years, died today at the
sanatorium, following a short illiness. He was born in Fairfield, Vt.
He leaves a sister, Mrs. E. L. Scott of Springfield, and a stepmother,
Mrs. Mina Sturgess of Jeffersonville, Vt. The funeral will be held at
the funeral home of Philip O'Meara & Son Saturday morning at 8.15,
followed by a solemn high requiem mass at 9 in Blessed Sacrament
church. Burial will be in St. Mary's cemetery. Friends may call tonight
from 7 to 10 and tomorrow 2 to 5 and 7 to 10.
[Pictures]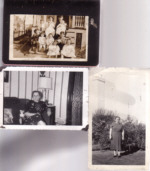 Top: Mr. and Mrs. Kelly -- Family (cutout of man on right labelled "Bill")
Left: Lillian Scott
Right: Lilliam M. Sturgess Scott

---------------END TRANSCRIPT----------------