Sugg Bible
The New Testament of Our Lord and Saviour Jesus
Christ, Boston, Published by R. P. & C. Williams,
No. 2 Cornhill Square, 1818. This is copied from
the NT title page, as the OT and general title pages
are missing. Apparently Hills #355.
This Bible is in poor, old condition and was
obviously heavily used. The front cover is attached
and covered with penmanship exercises of Phesanton
Sugg and Margaret Sugg. The first page is the "To
the Reader" introduction. The last page of the OT
and the reverse of the NT title page are filled with
the genealogy entries. The last page is the end of
Revelations (end of NT) and the back cover is missing.
The spine is in surprisingly good condition.
An entry was excised, leaving a hole in the NT title
page where it was. The pin used to do this (I think)
remains there. I wonder if the missing pages also
contained family information, and were deliberately
removed? All open space remaining in the Bible is
filled with entries, so I suspect those pages were
also well-used. An interesting piece.
Internet research places this family in Edgecombe County,
NC. The dates match those here.
Transcribed by and in the possession of Tracy St. Claire,
tracy@stclaire.org.
SURNAMES:
SUGG
-----------------TRANSCRIPT STARTS-----------------
[Inside Front Cover]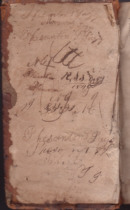 Phesanton S Sugg
Margaret Sugg
Phesanton S Sugg
1849
[Last Page of Malachi]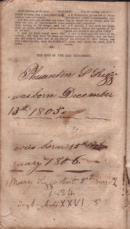 Phesanton S Sugg
was born December 13th 1805
?? ?? was born 15th February 1806
Mary Sugg obut 5th March 1824 Text -
Acts XXVI-8
[Reverse of NT Title Page]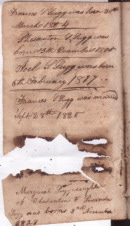 Frances S Sugg was born 30th March 1804
Phesanton S Sugg was borne 13th December 1805
Joel S Sugg was born 6th February 1817
Frances S Sugg was married Sept. 28th 1820
?? ?? [entry here obliterated]
Margaret Sugg daughter of Phesanton & Lucinda
Sugg was born 3rd November 1827
---------------END TRANSCRIPT----------------