Sunderlin Bible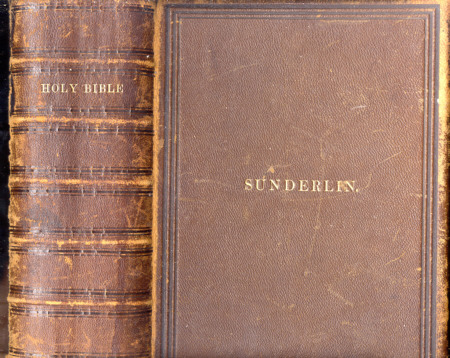 The Holy Bible Containing the Old and New Testaments, Philadelphia,
Published by E. H. Butler & Co, 1867.
This Bible is in very good condition, so much so that I think it may have
been rebound. It is slightly smaller than what I am used to seeing for
that era and the pages look to have close margins, but not abnormally
so. If it was rebound, someone did a great job of it. Pages gilt, scuffing.
The rear cover is off.
At first I thought this family might have died childless, but it appears that this
might not be the case. A "Mary" Sunderlin appears in the household of William
Lawrence in the 1880 Federal Census of Cussawago, Crawford County,
Pennsylvania. She is the mother-in-law, age 66, and her unmarried daughters
Lenora (37) and Zoradie (32). Daughter Alpha (25) has a daughter of her own,
age 2. It would appear from the older daughters' entries that Maria and Charles
were both from Pennsylvania, but Alpha's record says that both father and
mother were born on New York. Oh well. Such is genealogy. Draw your
own conclusions.
There is a embroidered bookmark with "Maria Louisa Miller" on it in this Bible.

Transcribed by and in the possession of Tracy St. Claire, tracy@stclaire.org.
SURNAMES:
SUNDERLIN
MARSELIS
MILLER
-----------------TRANSCRIPT STARTS-----------------
[Page One -- Marriages]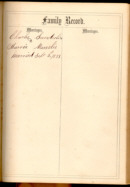 Charles Sunderlin
Marria Marselis
Married Sept 3d 1833
[Page Two -- Births]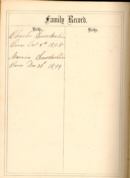 Charles Sunderlin
Born Oct 6th 1808
Marria Sunderlin
Born Dec 22d 1814
[Page Three -- Deaths]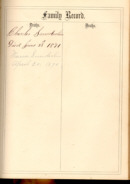 Charles Sunderlin Died June 23d 1871
Maria Sunderlin April 20 1890