Swalley Bible
The Holy Bible Containing the Old and New Testaments,
Dayton, Ohio, Published at the Printing Establishment of the
United Bretheren in Christ, 1858. Similar to Hills #1641,
but dated 1858.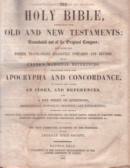 This Bible has the original binding and spine and it is intact,
but many pages are loose, there has been water damage,
and it has a musty smell.
The 1880 Census of Elm, Putnam County, Missouri locates
this family listed as follows. John E. Swalley is a Farmer,
White, age 73, born in PA as were both parents. Jane keeps
house, White, is age 55, born in VT and both parents were
born in NH. They are the only two in the household.
Transcribed by and in the possession of Tracy St. Claire,
tracy@stclaire.org.
SURNAMES:
SWALLEY
HAYNES
-----------------TRANSCRIPT STARTS-----------------
[Page One -- Marriages]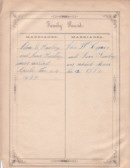 John E. Swalley and Jane Swalley was married Aprile the 24
1845
John W. Haynes and Jane Swalley was maried March the 12
1882
[Page Two -- Births]
John E. Swalley Born January the 20 1808
Jane Swalley Born September 26 1825
[Page Three -- Deaths]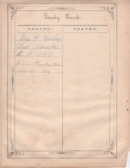 John E. Swalley Died November the 13 1880
Jane Swalley Died June 18 1889