Taylor Bible
This Bible was up for auction on eBay in March 2003. The seller gave permission for the following photographs and transcription to be submitted to this site.
Transcribed by Tara Hawkins.
Description:
The Holy Bible containing old and new testaments. Published in London by Charles Courtier and Sons -no date (c. 1902). Contemporary full calf over thick beveled boards with simple blind-stamped decoration. 5 raised bands and gilt title Holy Bible.
SURNAMES:
DENTON
TAYLOR
WILSON
--------------------------------------------------------------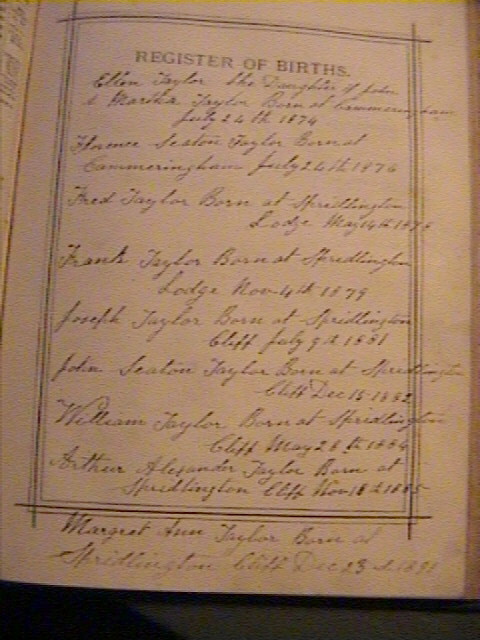 Register of Births
Ellen Taylor the daughter of John and Martha Taylor Born at Cammeringham July 24th 1874
Florence Seaton Taylor born at Cammeringham July 24th 1876
Fred Taylor born at Spridlington Lodge May 14th 1878[?]
Frank Taylor born at Spridlington Lodge Nov 4th 1879
Joseph Taylor born at Spridlington Cliff July 9th 1881
John Seaton Taylor born at Spridlington Cliff Dec 15 1882
William Taylor born at Spridlington Cliff May 26th [?] 1884
Arthur Alexander Taylor born at Spridlington Cliff Nov 18th [?] 1885
Margaret Ann Taylor born at Spridlington Cliff Dec 23rd 1891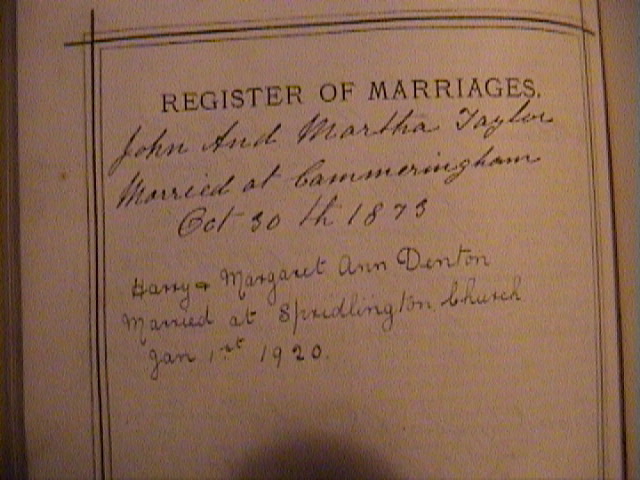 Register of Marriages
John and Martha Taylor married at Cammeringham Oct 30th 1873
Harry & Margaret Ann Denton married at Spridlington Church Jan 1st 1920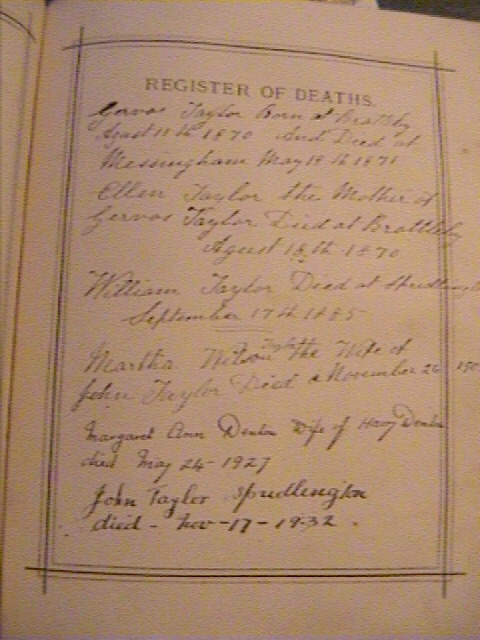 Register of Deaths
Gervo [?] Taylor born at …….. August 11th 1870 and died at Messinham May 18th 1871
Ellen Taylor the mother of Gervos[?] Taylor died at Brattleby[?] August 18th 1870
William Taylor died at Spridlington September 17th 1885
Martha Wilson Taylor the wife of John Taylor died November 26 18..[?]
Margaret Ann Denton wife of Harry Denton died May 24 1927
John Taylor Spridlington died Nov 17 1932

[END]