Warren Bible
The Cottage Bible and Family Expositor; Containing the
Old and New Testaments, With Practical Expositions and
Explanatory Notes. Volume Two only of a two volume set.
Hartford, Case, Tiffany and Burnham. 1844. Hills #1198.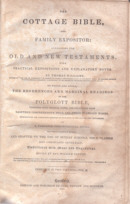 This Bible has its binding intact and the spine is present, but
off. The pages are complete, including the marbled endpapers,
but have some foxing. They have a slight musty odor, but
it is very slight.
It is my understanding that the William Warren here was a
eminent lawyer and possibly judge in Saratoga Springs,
New York.
Transcribed by and in the possession of Tracy St. Claire,
aaf@ais.net.
SURNAMES:
WARREN
WESTCOTT
BRYAN
WOODARD
LYTTLE
WHITE

-----------------TRANSCRIPT STARTS-----------------
[Page One -- Front Flyleaf]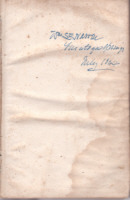 Wm. L. F. Warren
Saratoga Springs
July 1844
[Page Two -- Marriages]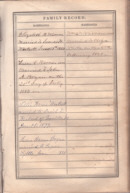 Elizabeth B. Warren Married to James H. Westcott June 13th
1850
Susan C. Warren was married to John A. Bryan on the 21st Day
of July 1853
Lillie Warren Westcott married to Daniel D. Woodard of Granville
N.Y. Jan 28, 1879.
Susan Warren Bryan married to Eugene Lyttle June 1883
Wm. L. F. Warren was married to Eliza White on the 28th February
1828.
[Page Three -- Births]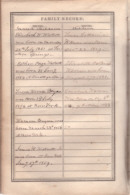 Grand Children
Elizabeth W Westcott was born on Monday 28th July 1851 at
Saratoga Springs
Esther Page Westcott was born 31 Jany 1854 at Saratoga Springs
Susan Warren Bryan was Born 23d July 1854 at New York
Warren Bryan was born March 23d 1856 at New York
James H. Westcott Jr was born at New York Jany 17th 1859.
Children
Susan Catharine Warren was Born Dec. 22 1829.
Elizabeth Belknap Warren was born August 27th 1831.
Caroline Warren Was Born on the 8th Day of October 1833.
[Page Four -- Births]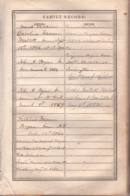 Grand Children
Caroline Warren Westcott born Sept 15th 1856 at S. Spgs.
John A. Bryan Jr. born March 5th 1859
John A. Bryan Jr. born at N York. March 8th 1859.
William Warren Bryan born NY Feb 13th 1860.
Adeline Vanderpael Bryan was Born 26th Augt 1861 at Staten
Island
Joseph Bryan was Born at Flushing Augt 18 1862
Grand Children
David Bryan born Oct 12 1864 at Irvington
Benjamin Bryan born Decr 26th 1868 at Irvington
Great Grand Children
Ethel Westcott Woodard was born at Granville NY May 4th 1882.
[Page Five -- Deaths]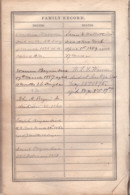 Caroline Warren Died on the 6th Day of March 1835 at 4 o'clock
A.M.
Warren Bryan Died 17th March 1857 aged 11 months 26 days
John A. Bryan Jr. died Dec 18 1860
Joseph Bryan Died at N. York March 28th 1863. aged 7 Months
10 Days.
David Bryan Died 28th February 1868
James H. Westcott Sen. Died at New York April 1st 1859 aged
37 years
W. L. F. Warren died at Saratoga Spgs May 23rd 1875. Aged
82 yrs 3 mos 19 days
---------------END TRANSCRIPT----------------