Wilkes Bible
The Holy Bible Containing the Old and New Testaments,
American Bible Society, 1847. 55th Edition, 4" x 7"
or so.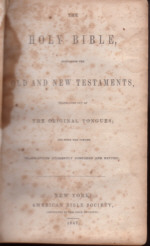 This Bible is in pretty good shape. It has some severe
foxing in the front and back pages, but the rest of the
book has minor foxing. The binding is solid.
The handwriting here leaves a lot to be desired. Wow.
Please look at the scans. In most cases it resembled some
psychological genealogy blot test instead of handwriting.
Transcribed by and in possession of Tracy St. Claire,
tracy@stclaire.org.
SURNAMES:
WILKES
BELL
---------------START TRANSCRIPT-------------------------
[Page One -- Inside Front Cover]
Adam Orvil Bell
Mr. Henry S. Wilkes 1875
[Page Two -- Opposite Page One, Flyleaf]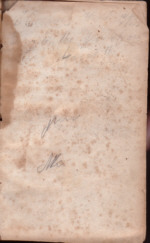 Henry S. Wilkes Was Born in the year of our Lord [rest
unintelligible]
[Page Three -- Reverse Page Two, Flyleaf. I think
these numbers reflect the dates & ages at death of the
people on the next page.]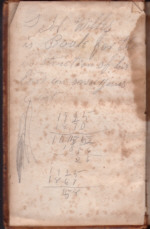 S. H. Wilkes is Book for the instruction of his Lord
an savor Jesus Crist
1925
1870
55
1882
1856
26
1925
1867
58
[Page Four -- Opposite Page Three, Flyleaf]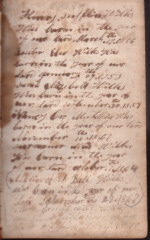 Henry Sutphin Wilkes Was Born in the year of our lord March
the 17 1856
Roseter Elen Wilkes was born in the year of our lord January
the 29 1858
Sarah Elizabeth Wilkes Was born in the year of our lord
September the 30 1859
Nancy Cro Matildia Was born in the year our lord November the
12 1861
sussaner Allis Wilkes Was born in the year of our lord
October the 1 1864
Alvin Ofril Bill Wilkes was born in the year of our lord
September the 22 1867
Mary James Geter Wilkes was born in the year of our lord
October the 14 1870
[Page Five -- Back Flyleaf]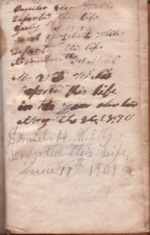 Rosester Elen Wilkes Departed this life July the 4 1858
Sarah Elizabeth Wilkes Departed this life November the 14 1860
Alvo V F Wilkes Departed this life in the year of our lord
May the 26 1890
Samiel H. Wilkes departed this this Life June 17th 1909