Woolverton Bible
The Holy Bible, Containing the Old and New Testaments,
Philadelphia, Stereotyped and Published by C. Alexander
& Co., 1838. Not in Hills -- possibly a variant of Hills #865.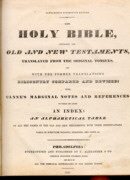 This Bible is in good condition. The pages and binding are
in good condition with an inch tear at the top of the spine.
Wear to the front and back boards and external hinge cracking,
but a nice looking copy.
This family is distantly related to me, and is descended from
the immigrant Charles Wolverton as follows:
Charles Woolverton
Son -- Roger Woolverton (b. 1 December 1700) and Mary ---
Son -- Roger Woolverton (b. 16 July 1747) and Martha Thatcher
This is according to The Woolverton Family 1693-1850 and
Beyond by David MacDonald and Nancy N. McAdams,
Penobscot Press 2001. They have this family in Hunterdon County,
New Jersey (home of many Woolvertons) and Sarah Case as
Sarah Kase. This book is the defining work on the subject of the
Woolverton/Wolverton family.
It appears that this was Jacob and Elizabeth Fauss's Bible, and
they probably wrote Sarah's maiden name from memory.
Transcribed by and in the possession of Tracy St. Claire,
tracy@stclaire.org.
SURNAMES:
WOLVERTON
CASE
FAUSS
--Transcriber's Note: The archaic "long s" is designated below
with the letter f.
-----------------TRANSCRIPT STARTS-----------------
[Page One -- Marriages]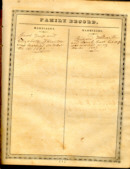 Jacob Faufs and Elizabeth Wolverton was married October the 14
1837
Richard Wolverton and Sarah Case his wife was maried May the 10
1807
[Page Two -- Births/Deaths]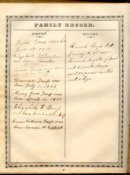 Jacob Faufs was born June 19 1813
Elizabeth Wolverton was born November 20 1817
Sarah Faufs was born April 28 1839
Hannah Faufs was born July 1 1843
Mary Jane Faufs was born April 16 1845
Elizabeth W Faufs was born October 8th 1849
Emma Catharine Faufs was born November 14th 1854
Hannah Faufs died January the 4th 1870
Hannah daughter of Jacob and Elizabeth Faufs
aged 26 years 6 months
and 3 days
[Page Three -- Births/Deaths]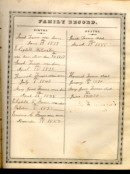 Jacob Fauss was born June the 19 1813
Elizabeth Wolverton was born November the 20 1817
Sarah Fauss was born April the 28 1839
Hannah Fauss was born July the 1 1843
Mary Jane Fauss was born April the16 1845
Elizabeth W Fauss was born October the 8th 1849
Emma C Fauss was born November the 14th 1854
Jacob Fauss died March the 17th 1888
Hannah Fauss died January the 4 1870
Mary Jane Fauss died June the 14 1870
[Page Four -- Births/Deaths]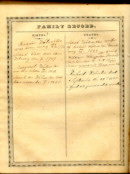 Richard Wolverton was born May the 24 1778
Sarah Case was born Febuary the 9 1787
Margaret Wolverton was born October the 23 1812
Sarah Ann Wolverton was born November the 9 1821
Sarah Wolverton wife of Richard Wolverton Deceiced
May the 23 1824
William Wolverton son of S and R Deceiced
September the 19 1818 Aged
seven years and three months
Richard Wolverton died September the 24th 1860
Aged 82 years and 4 months
---------------END TRANSCRIPT----------------