Wood Bible
The Holy Bible Containing the Old and New Testaments,
American Bible Society, New York, 1865. 8vo. No exact
copy in Hills, but a common printing.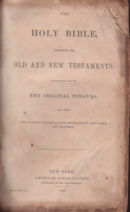 This Bible is in good shape. The covers are still on
but split. There is some damage to the spine, and parts
were put inside the Bible. A very good amount of wear
on this Bible; it was well used. There are a couple of
general clippings as well (of no genealogy interest).
This is another orphan Bible. There are few entries and
the obituaries within tell the tale of a childless couple.
A full family story can be read within the clippings.
This is a good study for genealogists in principle. These
three obituaries differ in: the name of the deceased, the
day he died, his birth date and other details.
Transcribed by and in possession of Tracy St. Claire,
tracy@stclaire.org.
SURNAMES:
WOOD
WING
---------------START TRANSCRIPT-------------------------
[Page One -- Marriages]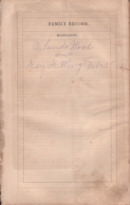 Orlando Wood and Mary M. Wing Feb 7th 1870
[Page Two and Three -- Clippings]
O.K. WOOD ANSWERS BUGLE CALL
Old Soldier Looses the Last Battle -- Remains Shipped
to Iowa Monday.
Orlando K. Wood was born at Woodville, Jefferson Co., N.Y.
February 27th., 1838 and died at Niobrara, Nebr., December
14th., 1912, aged 74 years 10 months and 13 days. His
parents, Samuel and Mary E. Wood, removed to Illinois
when the deceased was but three years old and the days of
his early manhood were spent in that state. When the call
came to help preserve the union, his patriotic sentiments
responded and he enlisted in his country's defense in 1861.
He was a member of Co. H., 15th regiment of Illinois
cavalry, enlisting in Kane Co., Illinois, and serving two
years. In 1870 he was married to Mary M. Wing in Mills
Co. Iowa, and a union of nearly forty-three years was ended
only by his death. The deceased was the third child of ten
and was the last to be called to come up higher where a
re-united family are waiting to welcome him home. He and
his wife united with the Congregational church shortly
after their marriage and remained in that communion until
their removal to Niobrara, when they entered the Presbyterian
church of this city and they have been faithful and consistent
members of the same since that time. He was also a member
of the Lander Post of this place and his comrades now have to
mourn another vacant chair.
Mr. Wood has been a great and patient sufferer for several
years and for the last six weeks has been totally blind.
The wife, five nephews, and five nieces were left to mourn
his loss.
Funeral services were held at the home of the deceased Sunday,
and the remains were escorted to the depot by his comrades of
the G.A.R. and W.R.C. Monday morning and shipped to LeMars, Iowa
for interment.
---------------------------------
DEATHS
K.O. Wood [sic]
Niobrara, Neb., Dec. 17 -- Special to The News: K. O. Wood, a
civil war veteran, died Saturday morning. Mr. Wood was born in
New York nearly seventy-five years ago. In his youth he moved
to Illinois and lived in that state at the opening of the civil
war and enlisted in an Illinois regiment. Mr. and Mrs. Wood
came here from Springfield, S.D., a few years ago to live. He
had been in failing health for about three years. His eye sight
became affected and he had been completely blind for about a
month. A short service was held at the home on Sunday afternoon,
conducted by Rev. T. W. Powell of the Methodist church. The
remains were taken to LeMars, Ia., for burial by his widow. The
G.A.R. veterans and members of the W.R.C. marched to the station
in a body, also several neighbors and friends were there on Monday
morning out of respect for the departed and to symathize with
Mrs. Wood.
----------------------------------
PIONEER DIED IN NEBRASKA
K.O. WOOD [sic] PASSED AWAY LAST FRIDAY
Was Among The Early Settlers In Elgin Twp. -- Moved Away Twenty
Years Ago
K.O. Wood [sic], a pioneer of this county, passed away at his home
in Nebraska Friday, his death being due to senility, or old age.
The body will be brought here for burial on the evening train
tonight.
Deceased was born in Woodville, N.Y. in 1836 [sic]. When a very
small boy he came west with his parents to Illinois, where he grew
to manhood, in the vicinity of Aurora. Between the ages of twenty-
five and thirty he came to Plymouth county, locating on a homestead
in Elgin township, three miles north of LeMars. Shortly after coming
to this county he was united in marriage to Miss Mollie Wing, of
Glenwood, Iowa. No children were born to their marriage. Mr. and Mrs.
Wood will be remembered by the pioneers, as they were of the good,
old families who joined in the hospitalities common to all home-
steaders. During the grasshopper times Mr. Wood was one of the heavy
sufferers, but by his persistent efforts won his home.
About twenty years ago he moved to Hawareden, living there ten years,
and from there they moved to Springfield, S.D., locating on a farm
near that place. Five years ago they moved to Nevorri [sic] Nebraska,
retiring form [sic] actual work. Mr. Woods served in the Civil War
and was an active member of the G. A. R. He is survived by his wife,
who will accompany the body to this city. Fred Woods, residing north
of this city is a nephew of deceased.
The funeral will take place tomorrow at ten o'clock from the Beely
undertaking rooms. Rev. E.E. Gilbert, pastor of the M.E. church will
have charge of the services. Interment will be made in the City
Cemetery.
[Page Four -- Deaths]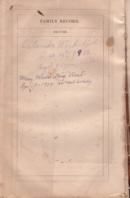 Orlando Wood died Dec 14th 1912 Aged 74 years 10m 13days
Mary Minerva Wing Wood - April 2 - 1939. Her 93rd birthday.

------------END TRANSCRIPT-------------------------------