Yutzey Bible
The Holy Bible Containing the Old and New Testaments,
Philadelphia, William W. Harding, 1868. Hills#1827.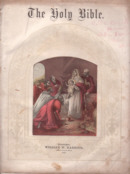 This Bible is in poor condition, with the binding loose and
in tatters, the spine almost gone. The pages are in pretty
good condition as are the illustrations, but the photo
pages were removed.
The "Louisville" referred to below is likely to be in Stark
County, Ohio. The Social Security Death Index puts the
death of Arthur Fink (who was born 5/30/1892) in Louisville,
Stark, OH in July, 1968. The card was issued in Ohio.
Transcribed by and in the possession of Tracy St. Claire,
tracy@stclaire.org.
SURNAMES:
YUTZEY
BOSLER
KAHLER
ARNOLD
BERNER
BECHTEL
FINK
-----------------TRANSCRIPT STARTS-----------------
[Front Flyleaf -- obituary]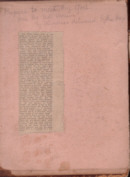 "Prepare to meet thy God" was the text chosen by Minnie,
delivered by Rev. Boyer [handwritten]
Miss Minnie Bosler died at the home of her parents Mr. and
Mrs. J. R. Bosler, Saturday, afternoon at two o'clock. Besides
her parents three brothers, Harvey, Milton and John, all of
Louisville, survive. Miss Bosler was thirty-seven years old,
having been born October 9, 1884, in the house where her
death occurred.
Miss Bosler was a Christian young woman. She was converted
at a meeting conducted by Rev. J. R. Zook at Valley Chapel
in January of 1913. Shortly afterwards she united with the church
and always remained a faithful member. In 1906, she went to
Buffalo, N.Y., where she spent seven years in mission work.
She was called home to care for her sister, Miss Mary, through
a long illness which terminated in her death August 27, 1914,
and it is thot in her devoted care of her sister she contracted her
illness which developed several years later. Last June, Miss
Bosler went to Upland, California but the climate was detrimental
to her and she returned to the home of her parents arriving March
18. Since then she was confined to her bed. During her long
illness she was a patient sufferer, at all times making manifest
her Christian disposition. She realized that her recovery was not
possible and made all plans for her funeral services which were
held at Valley Chapel, Tuesday morning. Rev. W. H. Boyer, of
Dayton, Ohio, delivered the sermon from a text chosen by her as
"my last message to Valley Chapel," the church to her so dear.
As her pall bearers she chose Homer Fenstermaker, F. N.
Hershberger, Emra Kahler, Arthur Fink, John Brechbill and L.O.
Brechbill, schoolmates of hers at the Center school.
Miss Bosler was a favorite with all who knew her for she had a most
pleasing personality. During her long illness she was shown many
kindnesses and was sent many messages of cheer. Her body rests
with the body of her sister in the Valley Chapel cemetary and they
are again united after a separation of a few years.
[Page One -- Marriages]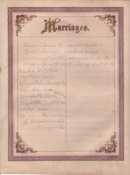 Daniel J. Yutzey and Martha Kahler were married on the 5th day of
March A. D. 1871.
Martha Kahler's mother was Elizabeth Arnold befor she was married
to Conrad Kahler. Elizabeth Arnold's mother was Mrs. Berner of
Cumberland Co. Virginia.
Harvey B. Bechtel and Bertha E. Yutzey were married on the 1st day
of Dec. A. D. 1895.
[Page Two -- Births]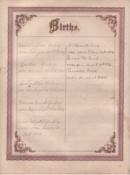 Daniel Jefferson Yutzey was born June 20th A. D. 1847
Martha Yutzey was born Sept. 3rd A.D. 1851.
Bertha Ellen Yutzey was born August 30th A.D. 1874
Florence Edith Yutzey was born Sept 12th A. D. 1885.
Chloe Myrtle Yutzey was born Sept. 10th A.D. 1892.
Arthur M Fink was born May 30th 1892.
Olive M. Fink was born Sept. 11th, 1892.
Harold C. Fink was born Oct 19, 1910.
---------------END TRANSCRIPT----------------