Zimmele Bible

Die Bibel oder Die Ganze Heilige Schrift des Alten
und Neuen Teftaments. New York, 1850, American
Bible Society.



This Bible has a modest, library-style binding making it
look much newer and less interesting than it really is.
There is an inscription in German that I cannot transcribe
nor translate, except for the date -- Dec. 25, 1850.



Transcribed by and in the possession of Tracy St. Claire,
tracy@stclaire.org.

SURNAMES:
ZIMMELE
WERNLE
SCULLY

-----------------TRANSCRIPT STARTS-----------------

[Page One -- Familien Register]



John B. Zimmele wedded to Julia Wernle on Ascension Day
May 13th 1858

My wife Julia departed this life at Ocean Grove Oct 25th 1901
in the 70th year of her Age after a happy wedded life in
Bethlehem Pa. of nearly 43 years duration. She is buried in
Nisky Hill Cemetery awaiting the glorious Resurrection Call
to the immortal Life in the Great Beyond.

[Page Two -- Familien Register]



Johann Julius sohn von Johann B. und Julia Zimmele Geboren
in Bethlehem den 29th Juli 1861

Getauft rei Pastor S.E. Welden am Sontag den 29ten Sept. 1861

Charles Frederick son of John B. and Julia Zimmele Born in
Bethlehem Pa. on the 7th of June 1866 Baptized on the 5th of Aug
1866 in Salem Church by Revd. J.B. Rath

[Page Three -- Familien Register]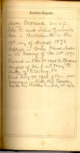 Harry Bernard, son of John B. and Julia Zimmele Born in Bethlehem
Pa. on the 19th day of August 1873. Baptized in Grace Church
Bethm on the Evening of Oct. 31st 1873

Married on Oct 7th 1905 to Margaret daughter of John S. and
Mary E. Scully og Pittsburg Pa.

Died July 9th 1906 of Brain Fever Interment in Nisky Hill
Cemetary beside his Mother on July 11th 1906

[Obituary -- There is no date on this, but the reverse describes
some WWI war information]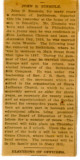 JOHN B. ZIMMELE

John B. Zimmele, for many years a resident of Bethlehem, departed
this life yesterday at the home of his son, in Brooklyn. Mr. Zimmele
was born and educated in Philadelphia. As a young man he was
confirmed in Zion Lutheran Church and later, on Ascension Day,
1858, he was married to Julia Wernle. The following year he
removed to Bethlehem, where he was in business on Main Street
from that time to 1887. During the Summer of that year he
traveled through Europe and upon his return was elected treasurer
of the Bethlehem Silk Company. He was, under the leadership
of Rev. J. B. Rath, the starter of the movement which resulted in
the organization of Grace Lutheran Church, in which he subsequently
served as elder for thirty years, as secretary for twenty years, and
as superintendent of the Sunday School for twenty-five years.
He also took an active part in borough and educational affairs, being
president of the Board of Education of Bethlehem for a number
of years.The funeral will take place on Thursday afternoon at
3 oclock. Upon the arrival of the body it will be taken to Grace
Church, where there will be a brief service. The interment will be
in the family plot in Nisky Hill.

---------------END TRANSCRIPT----------------