Baird Bible
The primary name on this bible is Baird. It is in my possession - David Shepherd divyhily@stones1944.freeserve.co.uk .
This Bible was printed in Edinburgh in 1789 (1791 for the New Testament) by Mark & Charles Kerr & the first name in the record was that of my great great grandfather William Baird who was born in Sorn, Ayrshire, Scotland, married at Loudoun, Ayrshire & died at Ochiltree, Ayrshire in 1830. This bible was passed on to me via my grandfather Andrew Armstrong Baird who features in a subsequent bible.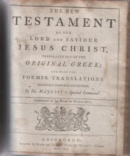 This William Baird was one of 13 children born to James Baird & Jean Miller, all in the Parish of Sorn.
SURNAMES:
BAIRD
MILLER
BLACK
-------------------------------------------------------------------------------------------

The following is the actual entry contained on the sheet between the Old & New Testaments :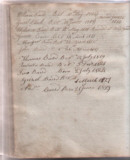 William Baird BN 10th May 1784 ] Married June 26th 1810
Grisel Black BN 12th January 1789 ]

William Baird BN 23rd May 1811 Recorded at New Cumnock
James Baird BN 14th March 1813
Margaret Baird BN 23rd April 1815
John Baird BN 26th April 1817 (My great grandfather)
Thomas Baird BN 12th July 1819
Isabella Baird BN 5th December 1821
Ivie Baird BN 2nd July 1824 (This was a male)
Grisel Baird BN 1 March 1827
Andrew Baird Born 21st June 1829