Blodgett Bible
The Holy Bible Containing the Old and New Testaments,
New York, American Bible Society, 1885.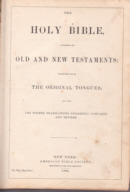 This Bible is in good condition. The front cover is attached
but split, and there is a spine tear along the bottom that needs
repair. The inside pages appear to be all present and in
excellent condition.
There are some poems & such between the pages, including
an interesting drawing that looks differently up than reversed.
These are scanned, but not transcribed, as none seems to
have genealogical significance.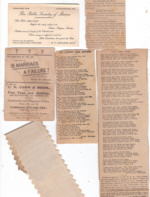 Reverse of the "Marriage" Coffee Card
Transcribed by and in the possession of Tracy St. Claire,
tracy@stclaire.org.
SURNAMES:
BLODGETT
MARSON
ADERTON
MOULTON
WRIGHT
-----------------TRANSCRIPT STARTS-----------------
[Front Flyleaf]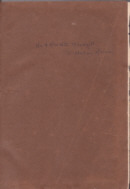 Mr. & Mrs. H. D. Blodgett
Pittston Maine
[Page One -- Marriages]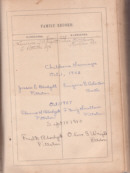 Jan 1, 1878
Harrison D. Blodgett E. Pittston Me
Flora S. Marson Gardiner Me
Childrens Marriages
Oct. 1, 1902
Jessie E. Blodgett Pittston
Eugene E. Aderton Bath
Oct. 1, 1907
Florence M. Blodgett Pittston
F. Guy Moulton Pittston
Sept 15 1910
Fred D. Blodgett Pittston
Olive G Wright Pittston
[Page Two -- Births]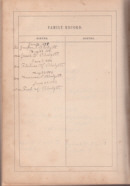 Jan 3d 1879 Fri
Jasper S. Blodgett
Aug 22, 1881 Mon
Jessie E. Blodgett
Jan 7, 1884 Mon
Florence M. Blodgett
Aug 30, 1886. Mon
Harrison S. Blodgett
June 30, 1889 Sun
Fred D. Blodgett
[Page Three -- Births]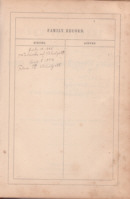 July 18, 1855
Harrison D. Blodgett
Aug. 8, 1856
Flora E. Blodgett
[Page Four -- Deaths]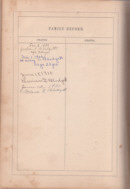 Feb. 2, 1880
Jasper S. Blodgett
Age 3 days
Dec 1, 1906
Harry S. Blodgett
age 20 yrs.
June 18, 1910
Harrison D. Blodgett
June 12, 1935
Flora E Blodgett

---------------END TRANSCRIPT----------------