Boyd Bible

This Bible was transcribed from the Daughters of the American
Revolution Magazine, Volume XLIX, No. 5, Nov., 1916, p. 347.
SURNAMES:
BOYD
LATHAM
BARROW
Transcript below verbatim from source but with some reformatting
to make it more readable. To be clear, the information was sent to
the DAR Magazine in 1916 by Mrs. Whitley, not to me. It is part of
the transcript of the article.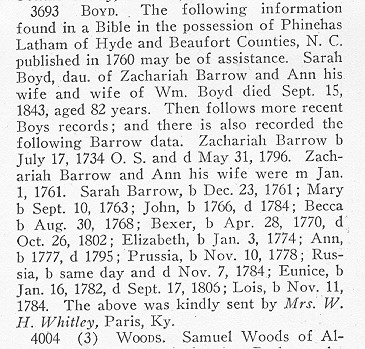 -----------------TRANSCRIPT STARTS-----------------
3693 BOYD.
The following information found in a Bible in the possession of Phineas
Latham of Hyde and Beaufort Counties, N.C. published in 1760 may be
of assistance.
Sarah Boyd, dau. of Zachariah Barrow and Ann his wife and wife of Wm.
Boyd died Sept. 15, 1843, aged 82 years.
Then follows more recent Boys [sic] records; and there is recorded the
following Barrow data.
Zachariah Barrow b. July 17, 1734 O.S. and d May 31, 1796.
Zachariah Barrow and Ann his wife were m Jan. 1, 1761.
Sarah Barrow, b Dec. 23, 1761;
Mary b Sept. 10, 1763;
John b 1766, d 1784;
Becca b Aug. 30, 1768;
Bexer, b Apr. 28, 1770, d Oct. 26, 1802;
Elizabeth, b Jan. 3, 1774;
Ann, b 1777, d 1795;
Prussia, b Nov. 10, 1778;
Russia, b same day and d Nov. 7, 1784;
Eunice, b Jan. 16, 1782, d Sept. 17, 1806;
Lois, b Nov. 11, 1784.
The above was kindly sent by Mrs. W. H. Whitley, Paris, Ky.

---------------END TRANSCRIPT----------------