Burnell Bible
The Holy Bible Containing the Old and New Testaments,
New York, American Bible Society, 1846. 8vo.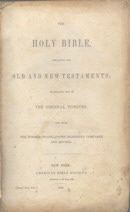 This Bible is in good condition. Binding is tight but
scratched, and with a small tear on the spine. Some
signatures have pulled loose, but most appear to be present.
NT title page is missing.
This family is rumored to be from Cumberland County, Maine,
according to some Internet sources.
Transcribed by and in the possession of Tracy St. Claire,
tracy@stclaire.org.
SURNAMES:
BURNELL

-----------------TRANSCRIPT STARTS-----------------
[Page One -- Inside Front Cover]
[Something scratched out, dated 1861. It is illegible to me.]
Emma Burnell Died January 25 1861
Samuel Burnell Died May 27 1860
[Page Two -- Births]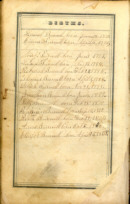 Samuel Burnell born June 17. 1770.
Emma Burnell born April 3, 1770.
Mary Burnell born Jan. 9 1793.
Susan Burnell born Mar 13. 1794.
Rebeccah Burnell born Feb 28, 1795.
Thomas Burnell born April 5, 1795.
Deliah Burnell born Nov. 21, 1798.
Jonathan Burnell born Jan 4. 1799.
Sally Burnell born Feb 28 1800.
Benjamin Burnell born Sep 14, 1802.
Ruth Burnell born Feb 21, 1804.
Amos Burnell born Oct 5, 1806.
Eleazor Burnell born April 25, 1808.
[Page Three -- Deaths]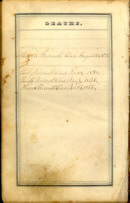 Susan Burnell Died August 25, 1828.
Sally Burnell Died Nov 28, 1830.
Ruth Burnell Died Apr 9, 1838.
Amos Burnell Died Nov 23, 1855.
---------------END TRANSCRIPT----------------