Cammet Bible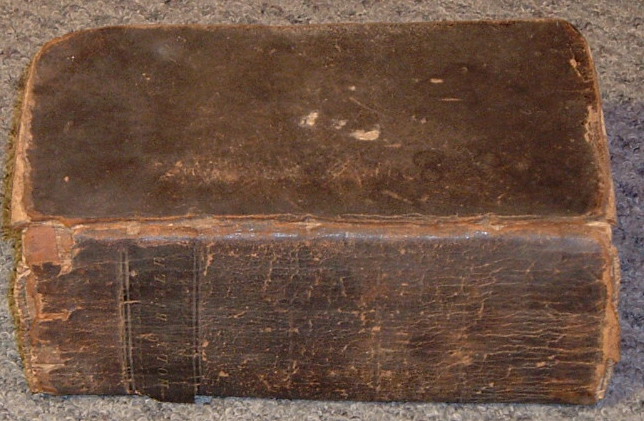 The New Testament of Our Lord and Saviour Jesus Christ, Morris-Town:
Printed and Sold By Mann and Douglass, 1805. Hills #122, this is the version
printed by Mann and Douglass for themselves apparently. The general and
OT title pages are missing, so this was copied from the NT.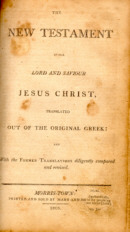 This Bible was acquired by Ann Shirkey and passed on to Tracy St. Claire. It is
currently in Tracy St. Claire's possession and will be passed on to a descendent.
There is a small piece of paper that accompanies the Bible that reads: Chas H Cammet East Unity
N H . This correlates with this Bible being originally from New Hampshire, as per below.
Silas Cammet is a Revolutionary War veteran from New Hampshire. Series M805, Roll 155,
Image 148, File W15630. It was filed by Martha Cammet, stating that Silas died September 25, 1807.
He apparently served under Captain Cogswell and Colonel Dustin from New Hampshire. She
resides in the town of Unity, County of Sullivan [New Hampshire].
This Bible is in pretty good shape compared to many I have seen. The front and back boards
care still attached although the hinges of both are both very weak. The original spine is present
and complete as seen above. Best of all, the text block is sound and stable. It isn't complete, as
mentioned above, but it starts with the first page of the Old Testament and end with the rear
flyleaves. It is not a particularly common edition, and I love to see patriot Bibles remaining
in this good of shape.
SURNAMES:
CAMMET
SMITH
---------------------START TRANSCRIPT---------------------------------------
[Page One -- Last Page of NT Tables]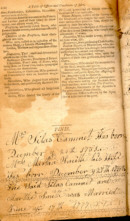 Mr.[??] Silas Cammet Was Born
December ye 24th 1758
Miss [??] Martha Smith his Wife
Was born December ye 27th 1758

The Said Silas Cammet and Martha Smith was Married
June ye 17th 1777
[Page Two -- Opposite Page One]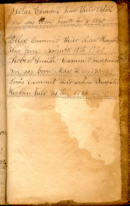 Silas Cammet Junr their Eldest
Son was born Janry the 5 1780
Polley Cammet their eldest Daughter
Was born Novmbr 11th 1781

Robert Smith Cammet our Second
Son was born May th 8 1785

Louis Cammet their Seckond Daughter [sic??]
Was born July 31 the 1788