Cowles Bible
This record was copied from Genealogical Records From
Old Family Bibles Manuscripts and Letters, Frank Andrews,
Vineland, New Jersey 1923, p. 11.
This Bible was kindly transcribed by Barb Donathan.
SURNAMES:
COWLES
Below this line, verbatim from source.
-------------------------------------------------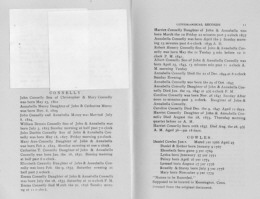 COWLES.
Daniel Cowles Jun r. Mared yer 1766 April 25.
Daniel & Esther born Jenuary 9 1767.
Elezebeth born gune 3 yer 1769.
Lydea born Jenewary 27 yer 1771.
Peircy born April 16 yer 1774.
Lemnel born August 17 yer 1776.
Roxelly & Statey born July 3 yer 1778.
Mary born November 9 yer 1779
"Names to be Recorded."
Supposed to be located in Kensington, Conn.
Printed from original document.
-------------------------------------------------