Eckerson Bible
The Holy Bible Containing the Old and New Testaments,
New York, American Bible Society, 1829. Marked 29th
edition, stereotyped by E. and J. White and printed by
D. Fanshaw. No mention in Hills.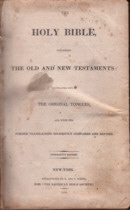 This Bible is in fair-good condition, with the binding in good
shape with scuffing, some loss to the spine leather. Pages
all present with foxing and dogears.
Transcribed by and in the possession of Tracy St. Claire,
tasaint@comcast.net. (Not a family member).
Scans available at http://www.biblerecords.com
SURNAMES:
ECKERSON
-----------------TRANSCRIPT STARTS-----------------
[Blank page after the end of the Old Testament and various
tables]
Mifs Gitty Eckerson's Bible She was born
January th 16, 1805
[Next Blank Page]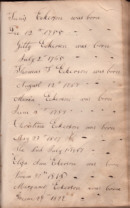 Tunis Eckerson was born Dec 12th 1755
Gitty Eckerson was born July 2d 1765
Thomas T Eckerson was born August 12th 1787
Maria Eckerson was born June 6th [?] 1789
Christina Eckerson was born May 23 1807
She died July 1 1837
Eliza Ann Eckerson was born Novem 30 1816
Margaret Eckerson was born Decem 24 1822
---------------END TRANSCRIPT----------------