Gilbert Bible
The Complete Text Pictorial Bible Containing the Old and
New Testaments, The W. H. Ferguson Co., Cincinnati,
Ohio, 1881. No mention in Hills.
This Bible is in poor condition. It lost its cover somewhere,
but the spine remains. I think all the pages remain, but some
are folded in the middle of the Bible. It is a large Bible.
Transcribed by and in the possession of Tracy St. Claire,
tracy@stclaire.org.
The Marriage Certificate and Marriages pages are blank.
SURNAMES:
GILBERT
STEPHENS
MINER
SHAMON
PLUMLEY
-----------------TRANSCRIPT STARTS-----------------
[Page One -- Births]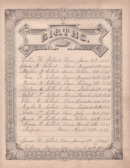 Lillie H. Gilbert Born June 6th 1867
Edwin A Gilbert Born August 6th 1868
Martin J Gilbert Born October 17th 1869
Cora P Gilbert Born August 24th 1871
Jennie L. Gilbert Born Febuary 7th 1873
Stephen M Gilbert Born September 1st 1874
Caleb N Gilbert Born March 18th 1876
Elsie E Gilbert Born December 15th 1877
Myrtle M Gilbert Born September 28th 1879
Teressa T Gilbert Born July 21st 1881
James O Gilbert Born October 28th 1883
Grover C Gilbert Born April 18th 1885
Infant Born April 18th 1889
James N Gilbert Born January 1st 1845
Catharine Stephens Born March 23rd 1846
[Page Two -- Deaths]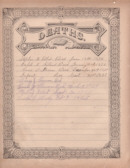 Stephen M Gilbert Died June 13th 1876
Caleb N Gilbert Died January 26th 1877
Cora J Miner Died December 28th 1890
Infant Died April 21st 1889
Nancy J Shamon Died
Enos J Shamon Died March 17, 1924
Martin J Gilbert Sept. 30. 1924
Luella U. Plumley Oct 9 1925
---------------END TRANSCRIPT----------------