The Holy Bible Containing the Old and New Testaments,
Brattleborough, J. Holbrook's Stereotype Copy, 1817.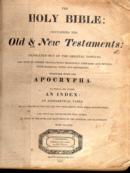 This Bible is in great original shape. The inside front cover
is cracking and it has seen some repair, but it is beautiful.
There is some mild foxing among the pages and some
slight swelling from humidity, but no damage. There is a
gilded "26" at the bottom of the spine. I do not have another
to compare it to, so I do not know what that means.
This Bible was sent to me by James B. Longley in January
of 2005. It was in the possession of his sister at the time
of her death. He believes that it may have come from her
husband, William Sterling Byrd Lacy, who had Virginia
connections. This Goodwin family was definitely from Virginia,
found in many censuses in Essex and Caroline Counties.
It appears that the couple below -- Littleton and Elizabeth --
were both Goodwin by birth, according to some Internet
sources. Some of the descendants of this couple fought
for the Confederacy.
Transcribed by and in possession of Tracy St. Claire,
tracy@stclaire.org.
SURNAMES:
GOODWIN
WOODFORD
LEWIS
CHILES
SMITH
---------------START TRANSCRIPT-------------------------
[Page One -- Inside Front Cover]

Presented to my affectionate son John T. Goodwin by his
fond Mother, March 20th 1847
[Page Two -- Marriages Page]
Littleton Goodwin married to Elizabeth D. Goodwin the 19th
day of January 1797
The former born the 7th July 1776
The latter the 8th September 1781
Littleton Goodwin Senr departed this life the 5 September 1822,
aged 46 years, 1 month and 28 days.
Elizabeth D. Goodwin departed this life on Wednesday morning the
27th day of June 1849 at 2 OClock A.M. Aged 67 Years 9 months
and 19 days.
"And I heard a voice from heaven, saying unto me, Write, blefsed are
the dead which die in the Lord from henceforth: Yea, saith the Spirit,
that they may rest from their labours; and their works do follow them."
14C 13V Rev.
[Page Three -- Births and Deaths]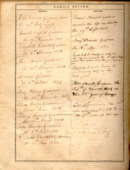 Peter Doswell Goodwin born the 24th July 1798.
Sarah Coghill Goodwin the 17th December 1800
Elizabeth Doswell Goodwin the 4th February 1803
Ann Maria Goodwin the 20th February 1805
Littleton Goodwin the 5th October 1807
Mary Frances Goodwin the 28th December 1809
Clara Hawes Goodwin the 14th March 1815
John Thomas Goodwin the 8th June 1818
Deana Dorothea Goodwin the 11th July 1820
Eleanor Howard Goodwin departed this life on Sunday
the 29th Sept. 1822
Mary Frances Goodwin the 13th Novr. 1822
Sarah Coghill Woodford departed this life on Sunday the 15th
April 1827 aged 26 years 3 months and 29 days
Elizabeth Doswell Lewis the 7th January 1837 in her 34th
year
Peter Doswell Goodwin the 24th of March 1849 in the 57st
year of his age
Littleton Goodwin the 12th of August 1853 in the 46th year of
his age
[Page Four -- Marriages]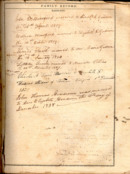 John B. [?] Woodford married to Sarah C. Goodwin the 15th
April 1819
William Woodford married to Elizabeth Goodwin the 14th October
1819.
Thomas Smith married to Ann Maria Goodwin the 16th January 1820.
Littleton Goodwin married to Henrietta Chiles the 22nd November
1827.
Charles A. Lewis Married to Elizabeth D. Woodford Widow of William
Woodford 1th December 1829
John Thomas Goodwin was married to Ann Elizabeth Goodwin the
19th day of December 1838 --
[Page Five -- Births and Deaths Page]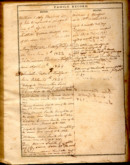 William Catesby Woodford son of John B and Sarah C. Woodford born
8th April 1820.
Littleton Goodwin Woodford son of the above born 29th April 1821
Mary Thornton Catesby Woodford was born June 8th 1822
John Laurence Battaile Woodford born April 11th 1824
S [?] Elizabeth Battaile Woodford born October 15th 1825
Elizabeth Merriwether Lewis Daughter of Charles A. and Elizabeth
D. Lewis born the 1st December 1830.
Caleb Smith Son of Thomas and Ann Maria Smith born 14 December
1824.
Thomas Goodwin Smith son of the above born 5th January 1827.
Mary Waugh Smith Daughter of the same born December 21 1829.
Littleton Goodwin Smith Son of the same, born March 14th 1831
Elizabeth Doswell Smith, Daughter of the same born April 15th 1833
William Heber Smith, Son of the above, born July 30th 1835
Ann Maria Smith, Daughter of the same, born 31st March 1839
Channing Moore Southall Smith son of the above was born Oct 15th
1843
William C. Woodford died 12th October 1820 aged 6 months & 10 days
Littleton Goodwin Woodford died the 17th Septr 1821 aged 4 months
& 19 days
Col. William Woodford Husband of Elizabeth D. died on Sunday the 9th
March 1828 in the 33rd year of his age
Elizabeth Doswell Smith daughter of Thomas and Ann Maria Smith
died July 2nd 1834
William Heber Smith son of Thos. and Ann Maria died July 21 1837
[Page Six -- Receipt]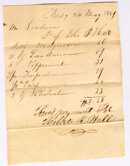 ??? 24 May 1849
Mr Goodwin
Re of John B Hall
Bottle Magneseum 56
11 oz Laudanum 69
2 pc [?] turpentine 19
1/4 ?? 50
2 oz Rhubarb 33
$2.58
Rced payment per Robert R. Hall
[Obituary]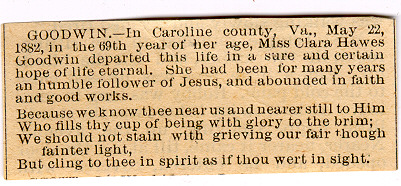 GOODWIN -- In Caroline county, Va., May 22, 1882, in the 69th year of her
age, Miss Clara Hawes Goodwin departed this life in a sure and certain hope
of life eternal. She had been for many years an humble follower of Jesus, and
abounded in faith and good works.
Because we know thee near us and nearer still to Him
Who fills thy cup of being with glory to the brim;
We should not stain with grieving our fair though
fainter light,
But cling to thee in spirit as if thou wert in sight.
------------END TRANSCRIPT-------------------------------