Griffing Bible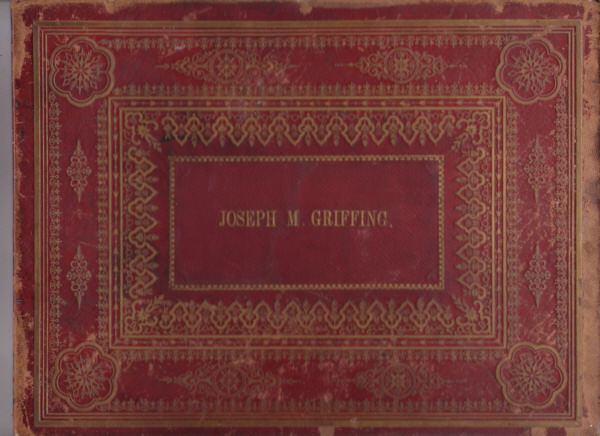 The Comprehensive Bible Containing the Old and New Testaments,
Philadelphia, J. B. Lippencott & Co., 1860. This Bible is in very good
condition -- the internal pages are in excellent condition, and the
binding is in good condition but with the front cover detached. Not
in Hills. On the front cover is stamped "Joseph M. Griffing" in gold
lettering.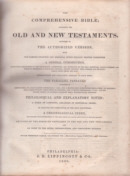 This Bible was donated to me by Sallie Hurt of Primitive Collectibles
(http://www.primitivecollectibles.com ). It is currently in my possession
(Tracy St. Claire, tracy@stclaire.org).
This family can be found in the East Marion, Suffolk County, New
York 1880 federal census.
| | | | | | | | | | |
| --- | --- | --- | --- | --- | --- | --- | --- | --- | --- |
| Name | Relation | Marital Status | Gender | Race | Age | Birthplace | Occupation | Father's Birthplace | Mother's Birthplace |
| Joseph M. GRIFFING | Self | W | Male | W | 51 | NY | Fisherman | NY | NY |
| John M. GRIFFING | Son | S | Male | W | 21 | NY | Fisherman | NY | CT |
| Ambrose F. GRIFFING | Son | S | Male | W | 19 | NY | Fisherman | NY | CT |
| Cora L. GRIFFING | Dau | S | Female | W | 13 | NY | At School | NY | CT |
| Lena W. GRIFFING | Dau | S | Female | W | 6 | NY | | NY | CT |
| Josephine ALDRICH | Other | S | Female | W | 32 | NY | Housekeeper | NY | NY |
SURNAMES:
GRIFFING
FISH
WEBB
MUIR
--------------TRANSCRIPT BEGINS HERE---
[Page One -- Marriages]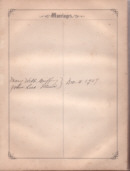 Mary Webb Griffing
John Lees Muir
Dec. 2 1909
[Page Two -- Births]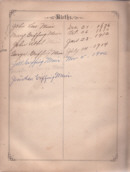 John Lees Muir Dec. 31 - 1876
Mary Griffing Muir Oct. 26 - 1886 -- Underneath is written "Lina" with an arrow to these two entries
John Abbot Muir Jan 23 - 1912
George Griffing Muir July 14 - 1914
Jill Griffing Muir Nov 5 - 1942
(Daughter of George Muir)
Jonathan Griffing Muir
[Page Three -- Births]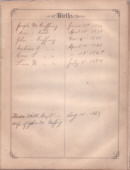 Joseph M. Griffing June 3rd 1830
Ann " Fish April 29" 1834
John " Griffing Nov. 6" 1855
Ambrose F. " " April 14" 1861
Cora L. " " " 29" 1867
Lina W. " " July 3" 1874
Rida Webb Griffing Aug 15 - 1857
wife of John M. Griffing
[Page Four -- Deaths]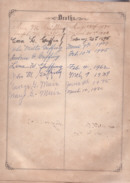 Ann M. Griffing Aug. 13th 1874
Joseph M. Griffing March 21st 1883
Cora L. Griffing February 24th 1895
John Milton Griffing March 9th 1939
Ambrose F. Griffing Feb. 10th 1948
Lina W. Griffing Feb. 4th 1962
John M. Griffing Mch 9 1939
George G. Muir June 4th 1975
Mary G. Muir March 14, 1980

-----------END TRANSCRIPT------------------