Harrison Bible

There is not a lot left of this little Bible, but from the information on
the Psalms Title page I think this is the remainder of volume 2 of
Herbert #1348. Mark and Charles Kerr, Edinburgh, 1740. Measures
about 3" x 5", has no cover, and starts with Chapter XIV of Luke.
I enlarged the scans 250% and darkened some, to try to make
the faded pages clearer.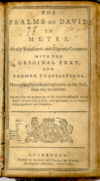 There are many entries on these blank pages, and it appears that the
information from the fading pages was recopied onto other pages,
sometimes with different dates?! It looks like I have a problem
transcribing, but the dates really don't match.
Transcribed by and in possession of Tracy St. Claire, tracy@stclaire.org.
SURNAMES:
HARRISON
WHEELER
-------------TRANSCRIPT STARTS------------------------------
[Page One]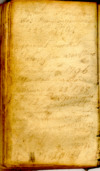 Betsy Harrifson Was Born on January The 25th 1793
James Crocket Harifson was Born March 10th 1796
???mah was Born february the 23d 1798
Anzy Harrifson was Born September 22d 1799
Field?? Harrifson ?? ?? ?? ?? 1802
?? ?? ?? ?? ??
[Page Two]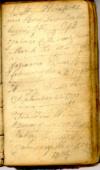 Betsy Harrifson was born December the twenty fifth 1793
James C. H. was Born March the 10th 1796
Jeframa H was Born febuary the 23 1798
Anzy H was Born September 22. 1799
Fielden H was Born June 30 1802
Patsy H was Born January the 6th 1804
[Page Three]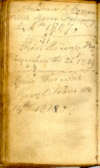 Andrew W. Harrass was Born February the 6th 1807
Alvin Ha was Born December the 22nd 1809
Cyrus Har was Born October the 14th 1810
[Page Four]
Susanah Row Harrison was Born October the 15 1814
[corrected in pencil from 1816]
Malissa Harrison was Born the 5 of April 5th 1816
Alexander B. Harrison was Born July 4th 1817
[Page Five]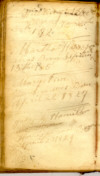 Fielding S. [?] Harris was Born June the 30th 182
Martha Harrison was Born September 13 the 185
Mary Ann Harrison was Born April 22 1827
Joseph Hamilton Harrison was Born April 22 1829
[Page Six]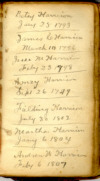 Betsy Harrison
Jany 25 1793
James C. Harrison
March 10 1796
Jesse M. Harrison
Feby 23 1798
Amzy Harrison
Sept 26 1799
Fielding Harrison
July 30 1802
Martha Harrison
Jany 6 1804
Andrew W. Harrison
Feby 6 1807
[Page Seven]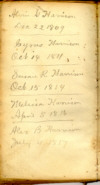 Alvin Harrison
Dec 22 1809
Cyrus Harrison
Oct 14 1811
Susan R. Harrison
Oct 15 1814
Melissa Harrison
April 5 1816
Alex B Harrison
July 4 1817
[Page Eight]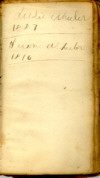 Susie Wheeler
1887 [??]
Susan Wheeler
1816
--------------END TRANSCRIPT-------------------------