Helton Bible Record
All I have of this Bible is a single family record page,
written on one side with three birth entries. Internet
sources place this family in Texas. It is small, about
4" by 6", and has ragged edges.
The page looks to date around the middle 19th century.
Transcribed by and in possession of Tracy St. Claire,
tracy@stclaire.org. This Bible page was returned to descendant
Hubert Helton of Dallas, Texas.
SURNAMES:
HELTON
---------------------------------------------------------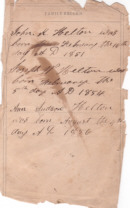 Family Record
John K. Helton was born ?? February the 16th day AD 1851
Joseph W. Helton was born February the 5th day AD 1854
Ann Judson Helton was born August the 4th day AD 1856