Henderson Bible
This is a grouping of two related Bible pages, separated from
the Bible. The pages themselves came from a Bible of the 20th
century, because the marriage certificate had "in the year of
our Lord 19__" pre-printed, before it was overwritten.
The only location given is "Jasper", which is a town name
in 20 of the United States, and probably many other countries
as well.
The handwriting is a little difficult; please check the scans before
using the transcript for anything important.
Transcribed by and in the possession of Tracy St. Claire,
tracy@stclaire.org.
SURNAMES:
HENDERSON
BERRY
SHADDOT
ZEICKMAN
SIMS
VILLIEN
MARRENGALE
-----------------TRANSCRIPT STARTS-----------------
[Page One -- Marriage Certificate]
This is to Certify that
J. G. Henderson age 22
and
Vicy Berry age 18
Were united by me in the bonds of HOLY MATRIMONY
at Brides parents in town Jasper on the 22
day of January in the year of our Lord
1885 [? last number]
In Presence of Sam [first letter of Sam ??] Reeves, Scot Parey
Signed Rev Willis Henderson
[Page Two -- Marriages]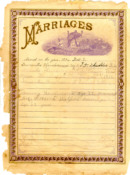 Married in the year. 1906. Dec. 2
Samantha Henderson 20. to T.J. Shaddot. 21.
Manda Henderson to Jess Zeickman Dec 25 1910
Nora Henderson to John Sims in the year Oct 29 1911
Frankie Henderson to Lorand Villien
Tommy Henderson age 22 married Dec. 11. 1921 to
Delphia Marrengale age 22 years
[Page Three -- Births]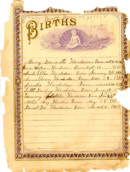 Vicy Berry Born Oct 20 1868
Marry Samantha Henderson. Born Oct. 9. 1886
James William Henderson. Born Sept. 19. 1888.
Manda Ellen Henderson. Born January 25. 1890
Annie Elnara Henderson. Born Dec 29. 1892.
Frankie Henderson. Born. March. 10 1894
Little Darling Henderson. Born. June. 12. 1897
Tommy Fletcher Henderson. Born. Jan. 21, 1899
Nellie May Henders. Born. May. 28, 190? [page torn]
Darrel Lee Henderson Born. March. 6. 1905
[Page Four -- Deaths]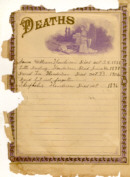 James William Henderson Died Oct. 28. 1888
Little Darling Henderson. Died. June. 16. 1897
Darrel Lee Henderson Died Oct. 23. 1906.
Gone but not forgotton..........
Theophilus Henderson Died Oct 1896.
---------------END TRANSCRIPT----------------