Holmes Bible
The Holy Bible Containing the Old and New Testament,
Boston, Printed for Thomas and Andrews by J. T. Buckingham,
1806. Hills #134.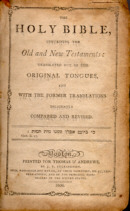 This Bible is in very good condition. Binding is tight and
without damage, and the pages are in good condition as
well. There is some scuffing and such, but not surprising
considering its age. I do not see any missing pages.
I cannot tell where this family came from because of the
common names in this Bible. There is a newspaper
clipping within, a poem about Christ being a friend. I
am guessing that the difficult-to-make-out two-word phrase
on the last page is ber wick, or Berwick Maine, in York County.
Holmes was a surname there at that time, and it is close to
where the Bible was published. Naples is a town in nearby
Cumberland County, and is mentioned in the newspaper
clipping.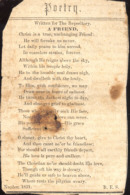 Transcribed by and in the possession of Tracy St. Claire,
tracy@stclaire.org.
SURNAMES:
HOLMES

-----------------TRANSCRIPT STARTS-----------------
[Page One -- Front Flyleaf]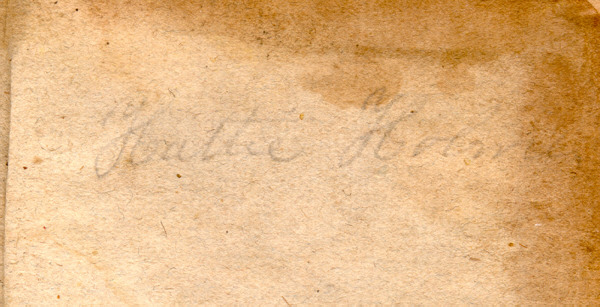 Hattie Holmes
[Page Two -- Front Flyleaf]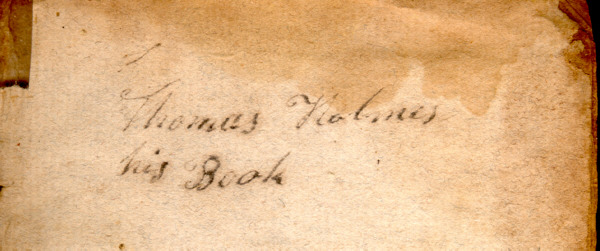 Thomas Holmes
his book
[Page Three -- reverse of NT Title Page]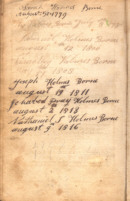 Sarah Holmes Borne August 30 1779
Tho Holmes Borne July th 8 1780
Samuel Holmes Born August th 12 1806
Timothy Holmes Borne May th 17 1808
Joseph Holmes Borne August th 19 1811
Ichabod Pray Holmes Borne August th 2 1813
Nathaniel S Holmes Borne August th 9 1816
1848
1816
32
1849
18??
44
[Page Four -- Back Flyleaf]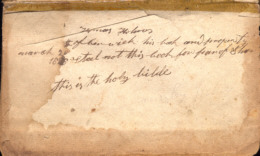 Thomas Holmes
th of ben wick his book and property
March 20 1826
steel not this book for fear of Sh??
Timothy Holmes
---------------END TRANSCRIPT----------------