Izzard Bible
The Holy Bible Containing the Old and New Testaments,
Oxford, London, University Press, for the British and Foreign
Bible Society, 1885. Small Pica 8vo.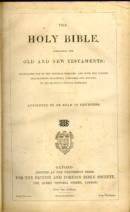 This Bible is in good condition. The front cover is attached
but split, and there is a spine tear along the top that needs
repair. The inside pages appear to be all present and in
excellent condition.
The family information is all in the inside front cover. There
does not appear to be pages for specific family records.
This family is from Sussex, England according to Internet
records (Ancestry civil records database).
Transcribed by and in the possession of Tracy St. Claire,
.
SURNAMES:
IZZARD
HALL
-----------------TRANSCRIPT STARTS-----------------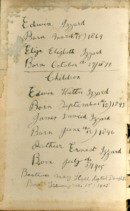 Edwin Izzard Born March the 15, 1869
Eliza Elizbeth Izzard Born October the 27, 1872
Children
Edwin Walter Izzard Born September the 12, 1893
James David Izzard Born June the 12, 1896
Arthur Ernest Izzard Born July the 3, 1905
Beatrice May Hall adopted Daughter Born February the 15, 1905

---------------END TRANSCRIPT----------------