Johnson Bible
The Cottage Bible and Family Expositor Containing the Old
and New Testaments, Hartford, Case, Tiffany and Burnham,
1845. Hills # 1251.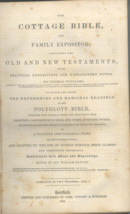 These Bibles hold up very well, and this two volume set is no
exception. However, the spines were both removed for some
reason -- leaving the rest of the Bible with a sturdy binding,
original marbled endpapers and all its pages. Some foxing.
All entries in the register were written in the same handwriting,
except for the last (death of Hannah).
Transcribed by and in the possession of Tracy St. Claire,
tracy@stclaire.org.
SURNAMES:
JOHNSON
FRYE
LEWIS
-----------------TRANSCRIPT STARTS-----------------
[Page One -- Front Blank Page, Presentation, of Vol. 1]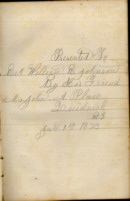 Presented To
Rev. William R. Johnson
By His Friend
Mr. John A. Place
Quidnick
RI
Jan. 1st 1873
[Page Two -- Marriages Vol 2]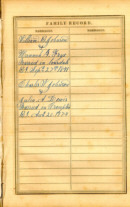 William R. Johnson
&
Hannah G. Frye
Married in Consdale
R.I. Sept. 27th 1841
Charles W. Johnson
&
Julia A. Lewis
Married in Crompton
R.I. Aug. 20. 1874
[Page Three -- Births Vol 2]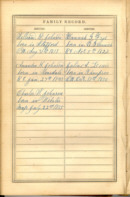 William R. Johnson
born in Stafford
Ctt. Aug. 31st 1819
Amandon H. Johnson
born in Condale
R.I. Jan. 27th 1843
Charles W. Johnson
born in Webster
Mafs July 22nd 1855
Hannah G. Frye
born in E. Greenwich
R.I. Nov. 5th 1822
Julia A. Lewis
born in Thompson
Ctt. Oct. 17th 1856
[Page Four -- Deaths Vol 2]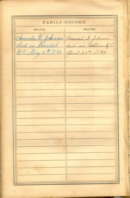 Amandon H. Johnson
died in Consdale
R. I. May 10th 1843
Hannah G. Johnson
died in Albion R.I.
April 28th 1891
---------------END TRANSCRIPT----------------