Killingsworth Bible
The Holy Bible Containing the Old and New Testaments,
Philadelphia: Stereotyped and Published by C. Alexander
& Co., 1834. Hills #865.
This Bible's binding is in poor shape. The spine is missing
and the front board is detached. The pages inside are all
present with a few detached, and the marbled endpieces and
flyleaves are all still there. The engraving opposite the
NT title page is torn and a large piece is missing.
Transcribed by and in possession of Tracy St. Claire,
tracy@stclaire.org.
SURNAMES:
KILLINGSWORTH
MOODY
PAXSON
HOPTON
WARNER
WALKER
---------------START TRANSCRIPT-------------------------
[Page One -- Marriages]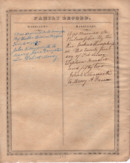 Was married In Wilmington By the Rev William Wiggins July 2nd
1837 John Killingsworth to Marry Jane Daughter of Robert Moody.
Was married In Philadelphia By the Rev. Joshua Humphriys [?] on
the twenty first day of February Eighteen Hundred and fifty two
John E. Killingsworth to Marry A. Paxton
[Page Two -- Births/Deaths]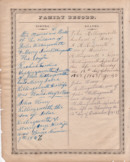 the names and Births of the cildren of John Killingsworth & Marry
Jane Killingsworth His wife
Rachel Caroline Killingsworth Daughter of John Killingsworth and
Marry Jane Killingsworth His wife was Bornd May 21st 1838
John Henry Killingsworth the son of John Killingsworth & Marry Jane
His wife was Bornd November 9th 1847 [corrected to 1846]
John Killingsworth husband of Mary A. Killingsworth & son of Manlove
Killingsworth & Susan Killingsworth departed this life on Thursday
the 12th day of November 1863 age 48
John Henry Killingsworth son of John Killingsworth and Mary Jane
Killingsworth departed this life on Thursday the 12th day of December
(1901)
[Page Three -- Births/Deaths]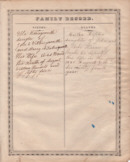 Ella Killingsworth daugter of John C. Killingsworth and Marry A.
Killingsworth His Wife was Bornd the ninth of August Eighteen Hundred
and fifty five
Martha Hopton daughter of John and Phebe Warner of Bucks Co. departed
this life in the year 1885 August 7 in her ninety fourth year
[Page Four -- Births/Deaths]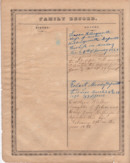 Susan Killingsworth wife of Manlove Killingsworth Departed this Life
on Monday the 28th of January 1828
Mary Jane Killingsworth the wife of John Killingsworth Departed this
Life on friday June the 14 1850 age 39 years
Robert Moody Departed this Life March 24th 1816 age 33 years
Caroline Walker daughter of John and Mary Jane Killingsworth departed
this life February 29th in the year 1892
------------END TRANSCRIPT-------------------------------