Lafler Bible
The Holy Bible Containing the Old and New Testaments,
Hartford, Printed by Hudson and Co., 1816. Hills # 307.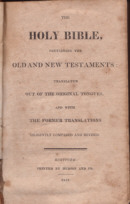 This Bible is in good condition. The origional binding is there
and intact, as well as all of the pages. There is overall tanning
and some foxing as one might expect. It is a small Bible,
about 4" x 6".
I cannot find a placename in this Bible, but some online sources
(unconfirmed) point to New York. The transcript below
reflects the casualness of spelling that was common back then.
There are some flowers pressed in the pages and a couple
pieces of ephemera.
Transcribed by and in the possession of Tracy St. Claire,
tracy@stclaire.org.
SURNAMES:
LAFLER
HALPH
-----------------TRANSCRIPT STARTS-----------------
[Page One -- First Flyleaf]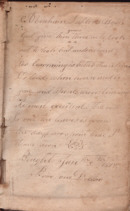 Abraham Lafler's Book
God give him grace there in to look
not to look but understand
For learning is better than house
or land; when house and is
gone and spent then learning
Is most excellent the rose
Is red the leaves is green
the days are spent the I
Have seen [initials -- I can't read TSC]
Bought Jan th3 th1817
Price one Dollar
[Page Two -- Back Flyleaf]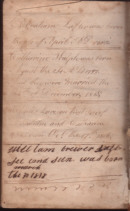 Abraham Lafler was born the 24 of April AD 1785.
Catharine Halph was born Agust the 24 AD 1797.
And they were married the 24th of December, 1815;
Charles Larison first son of Abraham and Catharine was
born Oct. the 17th 1816;
William brewer Lafler second sun was born March the 30
1818
[Page Three -- Back Flyleaf]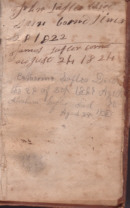 John Lafler third sun bornd jinur 28 1822
James Lafler bornd august 24 1824
Catharine Lafler Died the 28 of Sep 1869 Aged 72
Abraham Lafler died 1858 Aged 74

---------------END TRANSCRIPT----------------